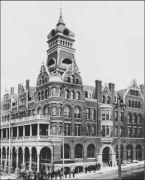 Fairhaven Hotel, 1890-1955


Sedro's 1890 Township school
(click thumbnail photos
above for story links)

Issue 59, December 2011
Courier-Times Tella-Pix photo features from 1950s-'70s
New Portal section to all links

Tella-Pix Sedro-Woolley businesses 1960s, Part 1 Clothing Stores and others


Tella-Pix Sedro-Woolley businesses 1960s, Part 2, Autos, service stations and others


Tella-Pix Sedro-Woolley businesses 1960s, Part 3, Grocers, Furniture stores, TV, Appliances, Jewelers and others


Tella-Pix Sedro-Woolley businesses 1960s, Part 4, Restaurants, Food, Dug Stores and others


Tella-Pix Sedro-Woolley businesses 1960s, Part 5
Professionals, Hardware, Barbers, Beauty Salons


Many more Tella-Pix and other photo features coming in 2014

---
---
History of the late, great and truly grand Fairhaven Hotel (1890-1955)


The Rise and Fall of the once-majestic Fairhaven Hotel, circa 1890s, a 1965 memory. With other history items about Fairhaven.


The 1953 Washington Territorial Centennial Museum, set up in the aging, amputated Fairhaven Hotel, just weeks before the wrecking ball came swinging in.

---
More Issue 59 features
Norm Lisherness, Sedro-Woolley's beloved chief of police.

New information discovered about one of Woolley's most influential early leaders, George Green, who attracted at least 75 more emigrants from Lincoln Center, Kansas, the town he founded. His son-in-law Emerson Hammer became state senator from Skagit county.

John Savage, Birdsview painter, son of George, whose autobiography he shared