New portal section for
Pre Sedro and old Sedro/Bug by the river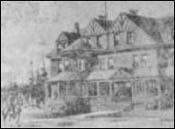 Hotel Sedro, 1890-97.Click for early photos of Sedro. This is the architect's drawing for the Hotel Sedro, built in 1890 in new Sedro where the high school gym stands today.
---
---
New Sedro
---
Old Woolley
Two-chapter profile of P.A. Woolley and his family and his company town, including part two, about how his Woolley town was born, how Metcalf Street was named, Dr. Harbaugh's marriage into the family, how the family moved their business to Savannah, Georgia, and much more.

Until we found the Dec. 5, 1891, issue of the Skagit County Times from old Woolley, we did not know there was an attempt to consolidate Sedro and Woolley in 1891. Read the full story and the Woolley city attorney's opinion that shot down the idea for seven years.


Dream Theater 1917
built by Dad and Ben Abbott. Click on photo for story


---

Part One of the Bingham bank and family story, which includes: Binghams arrive and open bank in old Sedro on July 30, 1890; Roots in Marengo, Iowa; Go West, Young Man; Binghams and Holbrooks flexing their muscles in Sedro; Julia feathers the Bingham nest; Bingham follows the business tide to Woolley; Marengo, Iowa, transplants to Sedro and Woolley; Wedding of the decade and even more Renos emigrate. All four parts.

Sedro-Woolley's Opera House (1898?-1972?), the Bowery Square and the building that became the Moose Lodge of Sedro-Woolley, fully updated from our recent newspaper research.

See 6 rare old photos about the 3 trains in the famous 1890s Sedro-Woolley triangle

King County Sheriff's Deputy George W. Poor is mistakenly killed by a U.S. Customs officer between Sedro and Woolley on July 26, 1891, while chasing smugglers of Chinese illegals.

The Kelley Strip, the "DMZ" no-man's land that served as the border between old Sedro and Woolley town.

Obituary for Norman R. Kelley, who literally drank himself to death in 1894 after founding new Sedro in 1889 while he was a right-of-way agent for the Seattle Lake Shore & Eastern railroad.

profiles of Charles Villeneuve and his son-in-law John Lloyd. Villeneuve was also a pioneer earlier on the South fork of the Skagit and especially at Conway. We are moving all our original "stumpranchonline.com" features like this one to our new domain. This story will soon be updated and changed to this address. If neither file connects, please email us. ; are you a descendant? Please email).

Charles Woodworth, long-lost but now-found namesake for Sedro-Woolley's street. And a Tacoma promoter.

Seneca G. Ketchum, Part One, growing up in Ontario; family of 17th-century English immigrants, pioneer settlers of Toronto, Ontario, and businessmen of New York State. All updated in 2009, and will be updated again soon with much more Ketchumania.

Seneca G. Ketchum, Part Two, Woolley editor and Tramp Printer in Pacific Northwest, arrived in Washington Territory in 1888.

Obituaries and articles about Seneca G. Ketchum and family.

Introduction to Darius Kinsey, Sedro-Woolley's most famous photographer; he lived here from 1897-1906. Also includes information about the complete Kinsey collection at the Whatcom Museum of History and Art and links to other Journal Kinsey stories and other background sources.

Profile of Darius Kinsey, Sedro-Woolley's ace photographer who revolutionized photography of logging and the North Cascades. He lived here from 1896-1906 at the beginning of his career, before moving to Seattle and establishing his Timber Views studio. This story will soon be changed to this address. If neither file connects, please email us.

The story of the Hammer, Green and Parker families who made such an impact on Sedro-Woolley and Lincoln, Kansas.

Read about how the Froggy Orchestra entertained settlers around the swamp that became P.A. Woolley's original company town in 1890, and how that area north of the railroad tracks is changing today, becoming almost chic.

Downtown Woolley's proposed Hammer Square park and its historical significance. See the link there for Arthur C. Seidell, who first made that corner famous, and the history of Sedro-Woolley Rotary and their legendary philanthropy.

Attorney General James Metcalfe, namesake of Metcalf street in old Woolley and the man who pulled the strings to pave the way for P.A. Woolley's company town.

An early version of the Skagit county fair from an 1896 story.

Short features about old Woolley in the 1890s, including the promotion of the cheese factory in 1896.

Woolley's classy hotel: St. Clair, which was renamed the Osterman House in the late 1890s, burned in 1909. The site of today's Gateway Hotel.

Wild Bill Murdock, logger, owner of Mount Vernon's early Washington Hotel, bartender, first mayor of Woolley in 1891, Sedro real estate developer and ace practical joker..

A profile of F.A. Hegg, old Woolley's premier grocer and one of our best-educated pioneers, story in two parts. With links to information and stories about his sons Bill, Pete and Fuzz and their relationships to other pioneer families. Also see the story about his son, Earl "Fuzz" Hegg, who gained fame with his Fuzzy Wuzzy grocery in Sedro-Woolley and was one of the most beloved of the pioneer grocers.

Doctor G.A. Jones, a Wyoming transplant who settled in Sedro-Woolley in 1912 as a professional veterinarian and left quite a mark.

The robbery of the First National Bank of Sedro-Woolley on Oct. 17, 1914. Includes layout of the town and businesses at that time, the crime wave of Summer 1914 and the True-Love bandit.

The Woolley Grays. Jim Gray, builder of Woolley's famous Palace Saloon, and Blanche Gray, mother of the Sedro-Woolley Library. The story of the library from the beginning in 1899 through the Carnegie library.

Arthur C. Seidell, the man who helped capture Jefferson Davis and then built one of the first substantial buildings in old Woolley town.

The Dream Theater in Sedro-Woolley and Dad Abbott, the impresario who built it and the original Chevrolet garage across the street, daughter Emma Abbott Ridgway, grandson Hugh Ridgway.

Emil Runck and his bicycle shop, how he introduced the Harley-Davidson motorcycle to Skagit county, plus Ewestern Reno and the history of the bicycle.

The strange story of the feud between brothers, the Sedro-Woolley and Sterling pioneers, the Ratchfords, Ritchfords and Richfords.



In 1892 a few dozen citizens from old Sedro and new climbed on top of a stump at 8th and Fidalgo streets, where Frank LaRoche Sr. photographed them.




3-part profile of Sedro-Woolley's premier international industry, Skagit Steel & Iron Works and a profile of its founder, David G. McIntyre and his family.

Our exclusive profile of McIntyre and his pioneer family. This story will soon be changed to this address. If neither file connects, please email us.

1929 Washingtonian magazine article in two parts, profiling the early growth of the company and how the McIntyre family took control of it. This story will soon be changed to this address. If neither file connects, please email us.

Read our about how local businessmen took the ball into their own hands and raised the money to pay for the land and homes north of the original plant in 1953, actions that convinced Skagit Steel not to move away from Sedro. Woolley. This story will soon be changed to this address. If neither file connects, please email us.

The Kiens brothers, who homesteaded north of Woolley in 1884. Their distillery, blasting powder factory, gold mine and Henry Kaiser. This story will soon be changed to this address. If neither file connects, please email us.

The fire of July 24, 1911 that leveled half of downtown Woolley — with photos of the aftermath. And then read how Woolley was rebuilt from 1911-13, also with many photos — the birth of our brick downtown.

Larry Spurling shares another of his wonderful stories of his pioneer family, this one about the Glider on the Fourth of July and the outhouse that got in the way. Also see photos of floats in early-century parades.

The Rockport Hotel Fire of 1952, a profile of its owner Hugo Bauman, and memories of Will D. Jenkins. Bauman originally owned the Osterman House hotel in old Woolley, which burned and was replaced by the hotel now called the Gateway. This story will soon be changed to this address. If neither file connects, please email us.

The late Harold Renfro, longtime Sedro mail carrier and son of the family who moved here from Missouri at the turn of the century.

The Pigg family, who moved in 1900 from Missouri to Sedro-Woolley, including W.B. Pigg, his confectionery and bakery, and his son Vic, first semi-pro baseball star from the high school. From our original domain, this story will be updated soon and have a new web address.

The Paul Rhodius, Sedro-Woolley pioneer druggist, florist, gold miner, postmaster and baseball coach, who moved to Woolley in 1900. From our original domain, this story will be updated soon and have a new web address.

---
Consolidation of Sedro and Woolley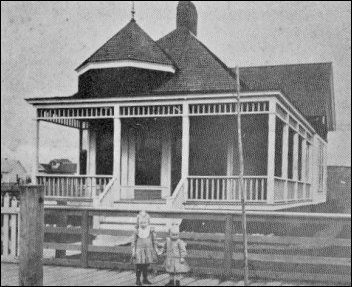 The LaPlant house, known by many as the honeymoon cottage, or the Blue Cottage, stands at the northwest corner of 5th and Talcott streets. Boomer Junius Brutus Alexander built the house in 1892-93.
---
---
Sedro-Woolley after World War I through World War II
---
Modern Sedro-Woolley since World War II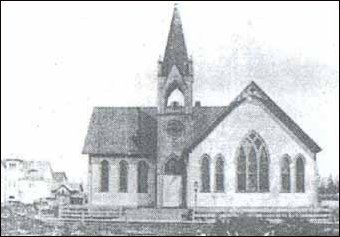 The original Methodist church in Sedro-Woolley, which was burned down by an arsonist in the 1970s. This photo is from 1905.
---
---
Churches, organizations, lodges and fraternal groups
---
Sedro-Woolley schools history
Sedro Woolley High School's first graduating classes of 1904 and 1905 (well before the time of online university), including Guy Flaherty, future sports star of the University of Washington and future engineer on the St. Lawrence Seaway.

R.I.P. Alcina Harwood. We have lost a dear personal friend, a longtime inspirational teacher in the Sedro-Woolley school district and descendant of the Hoyt, Boyd and Allen families. Alcina was born and grew up in old Montborne near Big Lake.

Our three-part, exclusive history of Sedro-Woolley and area schools, dating from 1883, is no longer on the site, but is being completed updated with new information. Meanwhile, read history of Sterling School. This story will soon be changed to this address. If neither file connects, please email us.

---
Odds and Ends articles from old newspapers: Sedro-Woolley pioneers & businesses