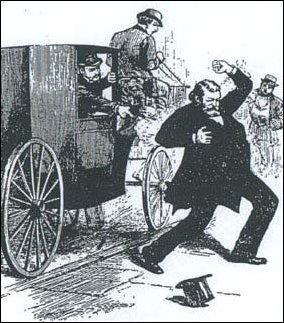 This drawing from Frank Leslie's Illustrated Newspaper of 1879 depicts the assassination of Isaac S. Kalloch by Charles DeYoung, the publisher of the San Francisco Chronicle on Aug. 23, 1879. Kalloch was campaigning for the office of San Francisco mayor at the time. Kalloch survived and won the election and on April 23, 1880, his son Isaac M. "Milton" shot and killed DeYoung in his newspaper office. Milton was arrested and later acquitted of murder, claiming self defense.
After one two-year term, Isaac S. Kalloch leaves politics and moves with some of his Kansas relatives to Washington territory in December 1883. Isaac goes to the town of Sehome — now Bellingham, Whatcom county, where he died in December 1887. The relatives joined Amariah Kalloch, who had homesteaded near the future town of Prairie, north of Sedro-Woolley. Isaac became involved with railroad interests there and Milton practiced law as an attorney at Whatcom and LaConner. Isaac died in 1887 and is buried in Fairhaven.
There are no Kallochs left here, but there is a Kalloch road. Glenn Hall, a grandson-by-marriage of Amariah Kalloch, taught science and physics to three generations of us at Sedro-Woolley High School. He helped us very much with history until he died at age 98 in 2008. We will profile the amazing extended Kalloch family in a future article. The illustration above was reprinted in M.M. Marberry's 1947 book, The Golden Voice, which Paula Thomas kindly copied for the Journal.

Timeline of national and international events

By Noel V. Bourasaw, Skagit River Journal of History & Folklore ©2003

For the past ten years we have built a database of notable events not only in the Northwest, but nationwide and worldwide. We feel it is important for readers to have a resource for the context of the frontier years. Among hundreds of newspaper and magazine articles, websites and books, these were our main sources:

Brun, Bernard, The Timetables of History, New York: Touchstone Books-Simon and Schuster, 1982.

Who did what, Illustrated Biographical Dictionary, New York: Gallery Books, 1985.

Kull, Irving S. and Nell M., A short chronology of American history, 1492-1950, New Brunswick, New Jersey: Rutgers University Press, 1952.

Carruth, Gordon, What happened when, a chronology of life & events in America, New York: Signet-Penguin Books, 1991.

Atkins, Robert, Artspoke, a guide to modern ideas, movements and buzzwords, 1848-1944, New York: Abbeville Press, 1993.

Kronenberger, Louis and Emily Morison Beck, ed., Brief Lives, Boston: Little, Brown and Co., 1971.

Rice, Arnold S. and John A. Krout, United States history from 1865, New York: Harper Collins., 1991.

We introduce this section with two segments: from the centennial year through 1879 and 1880-84. We will continue adding sections until we eventually cover 1853-1920. We welcome corrections and addition to the list from our readers and hope that you will help us make this a very useful section for students, genealogists and history lovers. The two links below refer you to our old domain and some of the links on those pages may not work, so please return to this page or to our home page for links to other stories.