of History & Folklore
600 of 700 total Free Home Page Stories & Photos
(Also see our Subscribers Magazine Sample)
The most in-depth, comprehensive site about the Skagit
Covers from British Columbia to Puget Sound. Counties covered: Skagit, Whatcom, Island, San Juan, Snohomish & BC. An evolving history dedicated to committing random acts of historical kindness

Noel V. Bourasaw, editor 810 Central Ave., Sedro-Woolley, Washington, 98284
Home of the Tarheel Stomp Mortimer Cook slept here & named the town Bug


Site founded Sept. 1, 2000. We passed 5 million page views on June 6, 2011
The home pages remain free of any charge. We need donations or subscriptions to continue.
Please pass on this website link to your family, relatives, friends and clients.

Harry Osborne, his Sedro-Woolley park,
the Douglas fir cross-section, and Puget
Sound & Baker River Railway's Two Spot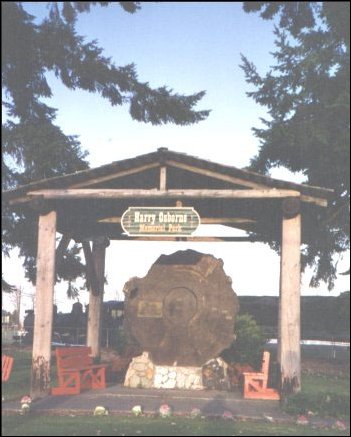 Harry Osborne Park in Sedro-Woolley
---
Ed. note: This story and the biography of the late Harry Osborne are presented in his memory. We are presenting them with the considerable aid of his descendants and relatives. His daughter Betty Jean Osborne Hittson and her husband Cecil have luckily maintained many of Henry's scrapbooks that he assembled over decades as a logger and a promoter of parks.
Harry's mother was born Waneta Dreyer, a daughter of the Henry Harms Dreyer family who homesteaded between early Sterling and the site of future Woolley. Harry's niece, Jeanie Doran Bond, has spent years researching the lives of the Dreyers, Osbornes and their extended families. She has shared many of her notes and her biographies of them. She is also a volunteer researcher at the Washington state regional archives in Bellingham and has given much of her time to help other researchers and genealogists.
Besides being honored as the namesake of two state parks, Harry was honored here in his hometown by the dedication of a mini park at the corner of what was originally Ferry street and Borseth street. Borseth was eventually blocked at what is now its north end so that it is now a little more than two blocks long and the rest of the old street to the north is Highway 20. The pocket park now houses a cross section of a Douglas Fir that germinated nearly a millenium ago. The explanation below of how the tree was discovered and how they installed a cross section of it in the park is in Harry's own words from a document we found ten years ago after it fell out of a dumpster behind Metcalf street. Serendipitous discoveries like this have provided many happy moments in the decade during which we have researched this project.

---
Harry Osborne:
The story of the great fir


This is a brief history of the large Douglas Fir block that is 10-foot, 6-inches of solid wood inside the bark, which is located at the intersection of Ferry street and Borseth street in Sedro-Woolley.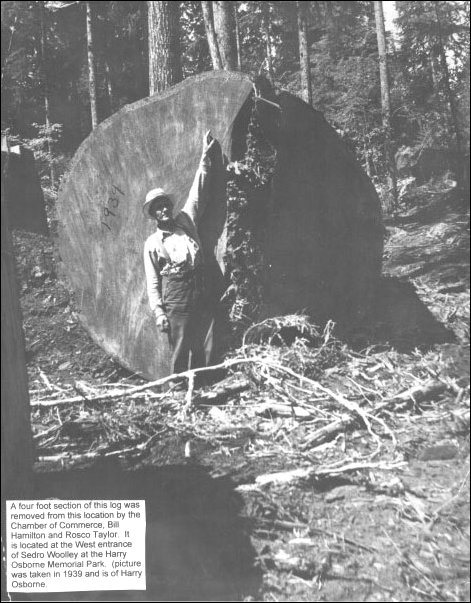 Harry Osborne and the tree in 1939 before it was felled
---
In 1944-45, while checking State of Washington timber in Section 26, Township 33 North, Range 7 East, in Skagit county, Mr. William Entwistle ran into this mammoth Douglas Fir, Pseudotsuga taxifolia, tree. He was field supervisor for the state forestry department and I was Skagit district supervisor. The tree was straight as an arrow, with no limbs for at least 100 feet. We spent some time measuring the circumference and the height, but the data has been lost in the paper work. I cannot remember who bought the 40 acres of state timber, but a Mr. Jackson logged it in 1945.
Prior to the logging of this tree I took many foresters and other interested people to the location and I became very interested in obtaining a portion of it for public display in Sedro-Woolley. After talking to members of the Rotary Club and the Chamber of Commerce, I was authorized to go ahead and get the block. Since the logging was already completed, we had to settle for a shorter section that was cut from the stump. Two friends came up on a Saturday with 10-foot chain saw and cut the block off, charging just $35.00. All other work and equipment was donated by: Roscoe Taylor; Carsten Carlson of Skagit Steel; Roy Benham and William Hamilton.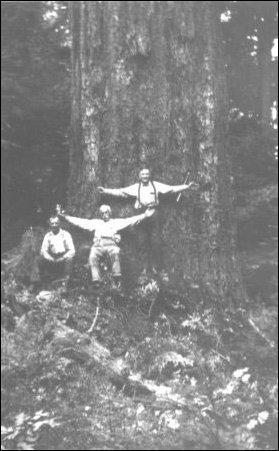 This photo was taken in October 1945. Jeanie Bond, Harry's niece, recalls that her uncle Derward Osborne said that if this was not "the" tree for the park, it was at least from the same area. A caption on the photo gives the location as section 36, Township 33 North, Range 6 East. That was school land at the far southeast corner of Lake Cavanaugh, east of Ehrlich. The men in front of the tree are, from l. to r., John Foss, William Entwistle and Harry Osborne. Look in the logging section for Entwistle's comprehensive look at logging methods dating back to when he was 12 in 1876. John G. Foss was a Norwegian immigrant who moved here via Canada and had a long career in forestry. His son Inge Foss still lives in Sedro-Woolley.
---
A semi flatbed truck was furnished by Skagit Steel. I made available a State Forestry caterpillar tractor to yard out and load the section, which was then delivered to the Skagit Steel plant. I did not see the block again for about two years until it was put in its present location. Skagit Steel surfaced the face and varnished it and also made a steel base for it to rest on where it now stands.
Henry Schell of Sedro-Woolley, who was interested in building stone, furnished and placed the rock masonry work over the steel stand as it is today. At one time he had most of the rocks identified and brief story of each under glass, but the glass was soon broken and the stories taken or destroyed by vandals.
Just recently I obtained the service of Vic Maddox, a retired State timber cruiser, to figure out the tree's volume in board feet. He estimated 71,190 feet, enough lumber to build 8-10 3-bedroom homes. He estimated the height to be over 275 feet.
Soon after all was completed I brought in two small Douglas fir seedlings and planted one on the west side and one on the east. They were from the same area as where the large tree grew. The original structure lasted until 1983, but due to decay of the upright posts and upper structure, the whole apparatus was repaired and a new roof installed by Sedro-Woolley city employees.
Data of the tree. Germination date 1102 AD, approximately 843 years old. Greatest diameter was 10 feet, 6 inches inside the bark. The circumference was 42 feet, 1 inch.
Cross-sections of other large trees I know of can be seen in:

Entrance to Anacortes: Douglas fir 9 feet, 8 inches
Main street, LaConner: Douglas fir 9 feet, 8 inches
Main street, Forks: Spruce 10 feet, 11 inches
Highway 2, Sultan: Douglas fir 9 feet, 10 inches
I do hope that this specimen will be preserved for many years to come. This is just one way that we can let the younger generation see a specimen of the trees that grew where Sedro-Woolley now stands.


Harry Osborne, January 1984
---
More information on the park: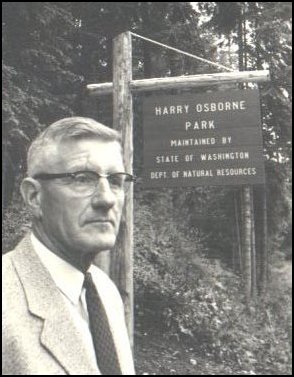 Harry Osborne at his namesake park near Redmond
---
The late Win McLean, a charter member of the Rotary Club, explained in the Rotary-sponsored book, Memories and Memorials, Past and Present, that the park that houses the fir cross-section was originally called Big Log Park, but was renamed Harry Osborne Park in Harry's honor.
The southeast half houses the Douglas fir section on an iron beam, which was all put into place by community volunteers led by the Junior Chamber of Commerce in 1948.
On the northwest half, railroad track was laid for the old 2-Spot locomotive, which was donated to the city by Scott Paper Co. in 1958. This locomotive was originally owned by the Puget Sound & Baker River Railway Co., a partnership between the Dempsey Lumber Co. of Michigan and Ed English, one of the founders of the city of Mount Vernon and a noted real estate and timber developer. The 2-Spot hauled most of the logs to salt water that were logged from the hills surrounding Lyman and Hamilton. The lokey and a caboose were originally located in Bingham Park, two blocks north on Borseth, but were moved to the present site in 1972. In 1986, members of the Cascade Job Corps renovated, cleaned and painted the 2-Spot under the direction of retired railway workers.
The city provides picnic tables and benches and maintains the park, which attracts a large number of tourists during the warm-weather months, particularly camera enthusiasts. A local crafts club volunteered to keep a tourism office open in the caboose in past years but they stopped in the year 2000 after many years service. If your club would like to volunteer to staff the caboose, you can phone the Chamber of Commerce at (360) 855-1841 for details or send us an email and we will forward it to the appropriate people in the city.

---
Puget Sound & Baker River Railway's
Two Spot locomotive at Osborne Park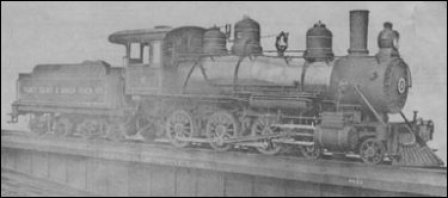 Two Spot on the Baldwin Locomotive Works showroom floor, 1913
---
The Two-Spot locomotive on the tracks at the entrance to Sedro-Woolley has a noticeable dent on the front that the late Howard Miller showed me a few years ago and then he took me up to a spot west of Lyman where the dent occurred. He pointed out the waterfall that cascades down the hill just north of Hwy 20 in line with where the old Lyman highway branches off to the south. Back when the Puget Sound & Baker River [PS&BR] Railway brought logs downriver from the lumber camps in the hills, the trains stopped at that point to take on water from a long metal spout. One day the spout was not stowed properly on the tower by the tracks and the heavy metal apparatus swung down and made the dent.
The Two Spot is a sentimental favorite to old timers in the area and their descendants because it reminds them of the days before the Great Depression when the PS&BR was the local David that Ed English and the Dempsey brothers launched in 1906 to challenge Goliath, James J. Hill's Great Northern Railroad. They built their trackage in 1905 to parallel the earlier line and today's John Liner road north of town follows the old roadbed as does portions of Hwy 20. The ballast for that rail line was provided by a young fellow who went on to fashion a modest career himself, Henry J. Kaiser.
The Two Spot was built especially for the English company by the Baldwin Locomotive Works of Philadelphia, one of 1,500 engines that Matthias Baldwin turned out. By January 1913, when PS&BR took delivery of the Two Spot, Baldwin was nearing the peak of its long life, which started before the civil war. In his great book, Logging Railroads in Skagit County, Dennis Blake Thompson provides details of almost all the wonderful old lokeys in the woods. The Two Spot was Baldwin #39058 of the 4-6-0 type, 16x24 cylinders, 44-inch driver, rated at 52 tons. Thompson noted that she worked her entire life in this area before being retired to tracks by the Big Log Park by Scott Paper Co., the company that evolved from English and Dempsey.
The Two Spot was also used for hauling supplies to companies that constructed the upriver Seattle City Light dams. Over its long life, it was operated by famous old engineers such as Al Stewart, Willard Wright, Ed Woods and Walt Welch. The tender behind the Two Spot was actually the one hooked to PS&BR's One Spot, also a Baldwin that was purchased in 1907. The Two Spot's tender was cut up for scrap in 1956, as was the One Spot herself.

---
Links, background reading and sources
Profile of logger and fire fighter Harry Osborne

Harry Osborne and the story of the really huge specimen of a Tree at Osborne Park, or Big Log Park, in Sedro-Woolley

The Two-Spot lokey at the entrance to Sedro-Woolley and a short summary of the Puget Sound & Baker River Railway.

---
Story posted on May 23, 2001, last updated on May 5, 2003, moved to this domain Oct. 28, 2011
Please report any broken links so we can update them
---
Remember; we welcome correction & criticism.
Please report any broken links or files that do not open and we will send you the correct link. With more than 700 features, we depend on your report. Thank you. And do not give up if you find a link that seems to be closed. Just put the subject in the search box below. The story may have been moved to our new domain. Or just ask us and we will guide you to it.
Did you enjoy this story? Remember, as with all our features, this story is a draft and will evolve as we discover more information and photos. This process continues until we eventually compile a book about Northwest history. Can you help with copies or scans of documents or photos? We never ask for your originals.
Read about how you can order CDs that include our photo features from the first ten years of our Subscribers-paid online magazine. Perfect for gifts. Although it was delayed by our illness, it is due for completion in 2012.


You can click the donation button to contribute to the rising costs of this site. See many examples of how you can aid our project and help us continue for another ten years. You can also subscribe to our optional Subscribers-Paid Journal magazine online, which celebrated its tenth anniversary in September 2010, with exclusive stories, in-depth research and photos that are shared with our subscribers first. You can go here to read the preview edition to see examples of our in-depth research or read how and why to subscribe.

---
You can read the history websites about our prime sponsors
Would you like information about how to join them in advertising?

Our newest sponsor, Plumeria Bay, is based in Birdsview, just a short walk away from the Royal family's famous Stumpranch, and is your source for the finest down comforters, pillows, featherbeds andduvet covers and bed linens. Order directly from their website and learn more about this intriguing local business.


Oliver-Hammer Clothes Shop at 817 Metcalf Street in downtown Sedro-Woolley, 90 years continually in business.


Peace and quiet at the Alpine RV Park, just north of Marblemount on Hwy 20, day, week or month, perfect for hunting or fishing. Park your RV or pitch a tent — for as little as $5 per night — by the Skagit River, just a short drive from Winthrop or Sedro-Woolley. Alpine is doubling in capacity for RVs and camping in 2011.


Check out Sedro-Woolley First section for links to all stories and reasons to shop here first
or make this your destination on your visit or vacation.


Are you looking to buy or sell a historic property, business or residence?
We may be able to assist. Email us for details.

| | |
| --- | --- |
| Did you find what you were seeking? We have helped many people find individual names or places, so email if you have any difficulty. | Tip: Put quotation marks around a specific name or item of two words or more, and then experiment with different combinations of the words without quote marks. We are currently researching some of the names most recently searched for — check the list here. Maybe you have searched for one of them? |
Please sign our guestbook so our readers will know where you found out about us, or share something you know about the Skagit River or your memories or those of your family. Share your reactions or suggestions or comment on our Journal. Thank you for taking time out of your busy day to visit our site.



View My Guestbook
Sign My Guestbook


Email us at: skagitriverjournal@gmail.com

Mail copies/documents to Street address: Skagit River Journal, 810 Central Ave., Sedro-Woolley, WA, 98284.