Advertisements

Dec. 21, 1911, Skagit County Times

Skagit Commission Company

Swastika brand good — rolled oats, ground oats, cracked wheat, cracked corn, corn meal feed We do grinding and rolling



Clear Lake Lumber Co.

Lath, shingles, mouldings, sash and doors, Woodinville brick, Denny-Renton pressed brick, Orcas lime, Planer end and mill wood.
Phones: Independent 543, Sunset 37-J



D. Dalton, Contractor and builder.

Estimates furnished upon construction work of any class




Arthur F. Baker, licensed embalmer and funeral director.

Day and Night Service. Embalming for shipment and specialty. Third Street.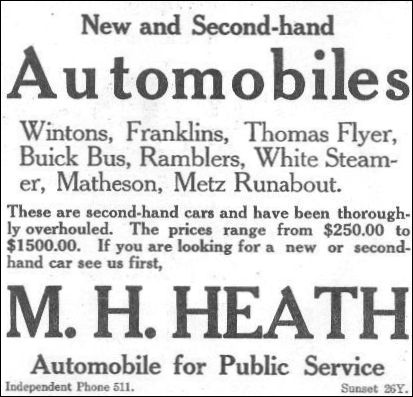 This is a most puzzling ad. We find no such company listed in the 1913 Polk Directory. But the ad also answers for us who in Woolley sold the Winton Six, one of the most expensive autos of the town, which Dr. Menzo B. Mattice bought in 1909 to impress his clients.


Mrs. Doherty's Novelty Shop

20 percent off on all ladies' suits, skirts and silk waists. We have a big stock of women's and children's goods that would make excellent Christmas presents. We are going to give a premium of a fine doll to some one before Christmas. Ask us about this Big Doll.


Charlotte Doherty genealogy

Charlotte A. Doherty was the widow of William Doherty, an early owner of the Keystone Hotel. Located on the south side of Northern Avenue — where the back of the Ace Hardware stands today, the Keystone may have been the earliest hotel in P.A. Woolley's company town. It soon became a den of iniquity and by the turn of the century, it became the symbol of deviltry during a mayoral election. See Issue 37 for the story. Charlotte sold the hotel after her husband's death and opened this ladies shop on Metcalf, probably in the Schneider building, which was a woodframe building where the old bowling alley stands today. The tax records show that she had a tidy asset that would see her through her days of widowhood.
Her husband died at age 44 on Sept. 10, 1903. He was born in Nova Scotia in 1859 and they married in 1893, presumably in old Woolley. Charlotte has a most fascinating lineage. Records from that era are very spotty but here is what we have found. From material in her birth record, we think that she was first married to Edward C. Carr, who sold the hotel to William Doherty. Her son was Edward Carter Carr, who owned the Skagit Commission Co. at a very young age, among other businesses. Apparently she and Carr divorced because we found subsequent children of Carr, born to his second wife. Charlotte's last child with Carr, Charlotte, was born on March 26, 1898, and married millman John F. Cory. Her elder daughter with Carr was Catherine, who was born April 11, 1886, and married bartender Harry E. Mullen. Her son, William B. Doherty, served in World War I. Charlotte was the daughter of Edward McGarigle, apparently the namesake of the road north of Hwy 20. We hope a reader will know more about the McGarigle, Carr and Mullen families.



Union Mercantile Co.

Last Call. Just two more buying days left till Christmas
It is now too late to make up gifts yourself but still time left in which to buy gifts that require no work on your part. We have a goodly lot of Christmas novelties, both useful and practical, that are bound to please any member of the family or of your friends. Then, too, we have marked them so they are within the reach of every pocketbook.
For the Ladies. "Dear to the Hearts" of all ladies are dainty dress accessories such as jabots, lace collars, side frills, beads, brooches, buckles, belt pins, back combs, barrettes, etc. She also likes pretty dishes, vases, etc. We have all of these and the prices are very attractive as well as the goods. Look at this line before deciding on a gift for her