---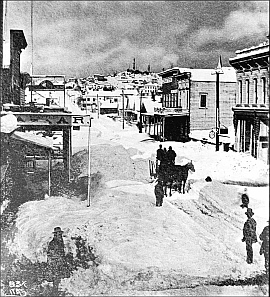 Paul Dorpat and Jean Sherrard offer this great snow photo and others from Seattle on their webpage and you can click on the photo for a much larger version. As they explain, we are looking north on Front Street (First Avenue) from Cherry Street during the 1880 Big Snow. Photo by Peterson & Bros.
These excerpts are from the 1880 Seattle Intelligencer newspaper, as provided by Ronald Edge. That newspaper debuted in Seattle on Aug. 5, 1867, as the latest evolution of the Seattle Gazette the city's first newspaper in 1863. It began publishing daily in 1876 and in 1881 it merged with a competitor, the Post. It then published in print as the Post-Intelligencer until 2009.
The Ruby Creek Gold Rush began in 1878 when some part-time argonauts took their gold samples to an assayer in Seattle and word was passed on to reporters sometime in the next 12 months. On Feb. 1, 1878, this group of very early upriver pioneers — Otto Klement, John Duncan, John Rowley, George Sanger and Robert Sharp hiked to a point fifteen miles from Goodell's landing and "there discovered a curious natural feature, the remains of a natural bridge, indicated by the overhanging rocks of the canyon."
The rush climaxed in 1880, and although we doubt the estimates of 5,000 or more miners, at least 2,500 men did pack in, as described in these clippings. An actual city formed and the federal enumerator counted the residents for the federal census in June of that year. See the list below of stories and websites that will provide more background for this event, which was the second most important Northwest rush, after the Fraser River rush of 1858.
---