The von Pressentins are the most-featured family in the Journal, due to their dominance in many towns upriver. We are moving all our original "stumpranchonline.com" features, like many of these below, to our new domain. If the main link does not work, click on the alternate new address. If neither file connects, please email us and we will correct the link and send one to you that works. Thank you.


Interviews with Paul Pressentin, updated from our old website, about the von Pressentin family, their arrival and life on the Birdsview homestead.


Otto K. von Pressentin, mountain man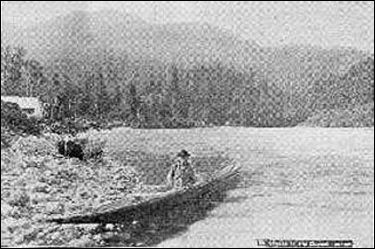 This photo of an Indian canoe near Marblemount was taken by Darius Kinsey of Sedro-Woolley and appeared in Sebring's Illustrated magazine in 1902. See the story about Otto Pressentin and how he reacted to the 1897 Skagit River flood when he was a schoolteacher in Marblemount.
---
Back in about 1932 I was hiking up to cross the Cascade Pass and I was standing here by the river about where we are now [near Rockport] and all of a sudden I heard a really loud splash in the water, but I couldn't see anything clear on that overcast day. I wondered if it was one of those really large sturgeons we saw now and then. But pretty soon I saw a man stand up in the water and stride towards the shore. It was Otto Pressentin. After congratulating him, I asked him why he did it? He explained that he wanted to go to Marblemount and he was working a ways east of their home and the Pressentin Ferry Landing, so he just decided to dive in and swim over here instead. And that was not the only time he did it. One of the strongest men I've ever seen. —Howard Miller, 1998 interview.
Yup I knew Otto Von, he was one powerful guy and ran the ferry across the river (from their ranch to the north shore). We forestry critters would watch in amazement as Otto cranked that big old cable wheel with one hand. He really had a fit when the army tried to run a tank retriever onto his ferry and the ferry did a glub, glub and sank. —Dr. Quentin C. Belles correspondence, Sedro-Woolley High School alumnus.

Other stories that include von Pressentin information
The Henry Martin family,
closely associated with the von Pressentins
A 1945 biography of the Henry A. Martin family by Susanna Kinney and excerpts of their genealogy

Obituaries of Henry A. Martin and his wife, Katherine O'Connor Martin

Two interviews with Fred Martin, son of Henry and a state senator and administrator, one from 1979 in the Concrete Herald and another from 1959 in the Puget Sound Mail, which featured his remarks at the annual Historical Society picnic.

How upriver Skagit Catholics organized their own services in private homes and then built their own mission church, led by Katharine and Henry Martin of Illabot creek. This story will soon be changed to this address. If neither file connects, please email us.

Even More von Pressentin stories will be added over the next few years.