Site founded Sept. 1, 2000. We pass 3.5 million page views in October 2009
The home pages remain free of any charge. We need donations or subscriptions to continue.
Please pass on this website link to your family, relatives, friends and clients.

of History & Folklore
Subscribers Edition
The most in-depth, comprehensive site about the Skagit
Covers from British Columbia to Puget Sound. Counties covered: Skagit, Whatcom, Island, San Juan, Snohomish & BC. An evolving history dedicated to committing random acts of historical kindness

Henry A. Martin
upriver pioneer of Illabot creek
Henry A. Martin emigrated from Minnesota to Seattle and arrived on June 7, 1889, the day after the big fire that burned down most of the town. He learned about the Skagit river and took a steamboat up to Mount Vernon later that year, where he learned that most of the best government land had already been appropriated. Looking at a map, he found the Illabot creek about 75 miles upriver and he walked overland to get there. Back in New Brunswick, Canada, where he grew up, the woods were disappearing, but here, there was a forest ready to logged. A year later, he sent for his wife and four children and when they arrived, he put them in a canoe and poled up the Skagit to their new home. The family, including four children age four down to an infant, stayed with a neighbor while Henry completed a crude shake cabin on their homestead. As his wife often pointed out, she was less than thrilled about their little clearing in the forest. But she helped him raise five more children and worked with him to start a Catholic mission downriver near Concrete. This family's story is one of the most inspiring ones we have ever read and in this issue we share four vignettes that will help you learn about the terrific challenges that families such of theirs faced. We especially want to thank the sisters, Lea and Denise von Pressentin, and the combined members of the von Pressentin and Martin families who were kind enough to invite us to their wonderful reunions in August 2000. There are photos of the family with each of the stories below.
A 1945 biography of the Henry A. Martin family by Susanna Kinney and excerpts of their genealogy

Obituaries of Henry A. Martin and his wife, Katherine O'Connor Martin

Two interviews with Fred Martin, son of Henry and a state senator and administrator, one from 1979 in the Concrete Herald and another from 1959 in the Puget Sound Mail, which featured his remarks at the annual Historical Society picnic.

---
Profile of Henry Martin and family:
By Mrs. Susanna Kinney, a school teacher of Rockport, Washington
[Mrs. McKinney apparently wrote this in 1945 and then updated it in 1951.
This is a consolidation of the various versions that exist]
---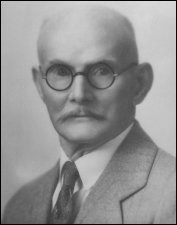 Henry Martin
---
From the recollections of Henry A. Martin, through a personal interview, I write the following. Henry A. Martin, born in Sussex, King's county, New Brunswick, Canada, August 25, 1860, of Irish parentage. He came from his later home in Graceville, Minnesota, to Seattle via Northern Pacific railroad in 1889 arriving there June 7, the after the big fire.
He filed on a homestead that year on Illabot creek, five miles east of the present town of Rockport, in the upper Skagit valley. Leaving Seattle in late July 1889, he traveled on the steamer Cascade to Mount Vernon, walking the balance of the way to Illabot creek and what was to be his new home, a distance of some fifty miles, for this was twelve years before steel was laid in the upper valley.
Mr. Martin learned to speak the language of the Indians of the locality. They helped him make his first canoe from a cedar log. All provisions and mail were brought in by canoe up the Skagit river, which was not often.
In November 1889 his wife, Katharine, and their four children arrived from Minnesota. He poled his canoe with the family and supplies from Mount Vernon to the homestead, camping out nights under poles covered with a piece of tarp. They spent one night at what is now the town of Hamilton, in the pioneer home of Otto Pressentin, uncle of "Skagit Bill" Pressentin, and Bill's brothers Ed and Bert, all now residing in Rockport. The last night out they stayed with Amasa Peg-leg Everett (everyone called him that) in his log cabin on Baker creek — now near the town of Concrete — and enjoyed a supper of bacon and potatoes cooked over an open fireplace.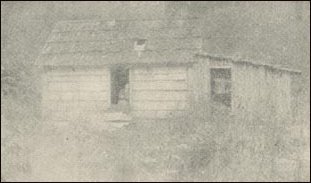 Original Martin homestead cabin. These photos are from the Concrete Herald

---

The family stayed with a neighbor in his log cabin until Mr. Martin completed his own log house on his densely timbered 160 acres. It has long since tumbled down and passed out of sight. He built a ten-room house on the place in 1903 procuring the lumber from a saw mill which occupied the spot where Rockport now stands. More than 44,000 feet of lumber was used in the construction of the home, which has been modernized.
Mr. Martin cleared a plot of ground which he spaded for a garden. It was slow work and during some of those early years he operated a boat on the river, carrying shingle bolts to Mount Vernon. He received $1.25 a cord for them, payment being made in the form of provisions. Those were carried on his back two and a half miles to his home for his family. He bought a couple of calves and raised his own ox team.
He would kick into the deep earth and exclaim with satisfaction: "Look at that fine, rich, black soil!" But his wife's heart was broken when she saw where she was to dwell and what she was facing. As they came into the wilderness, the farther they traveled the more lonely and terrible she felt and the more disgusted she became. The trees were so tall and so close to the cabin the family occupied that she could not see even the highest mountains and very little of the sky. It was months before she saw a white woman; some neighbors had married Indian maidens.
Alex Stafford was located two miles east of the Martin home when Mr. Martin came to the country. Bill O'Brien lived thee miles east and John Sutter lived to the northeast at Portage, where river navigation ended, one and a half miles downriver from Bacon creek. None of those men are now living. Martin recalls that the sternwheelers, Indiana and Monte Cristo last made their run to Portage in 1894.
Mrs. Maggie Barrett [often spelled Barratt], midwife of the Marblemount area, was an angel to the pioneer women in the lonely days. In spite of all her efforts the Martins lost two infant sons and, in one instance, almost the mother's life. Mrs. Barrett's daughter, Mrs. Barbara Simmington, now makes her home in Blaine, Washington. Katharine was taken to Mount Vernon in the canoe, with all that entailed. When Mr. Martin brought her home, he had to turn around again and take Jerome, the oldest son, to the doctor, because he had accidentally chopped off his toe. Doctors Harbaugh and Mattice in the old St. Elizabeth's hospital at Sedro rendered the family unforgettable service.
At one time Katharine almost despaired for the life of their infant daughter Bessie, now Mrs. Ed Pressentin. She kept Bessie alive for several weeks on catnip tea. She stated that one of the happiest moments of her life was when she saw her husband come into the clearing, leading a cow. That meant milk for the baby.
Mr. Martin tells of a Douglas fir tree on his place that was down when he came. It was ten feet across at the base and was 325 feet long. In 1897, a big flood occurred in the valley that worst in the valley seen by white men. When all the surrounding country was under water, a tree washed onto the Martin place that measured 22 feet in diameter. The Skagit river raised 23 inches in eight hours. Martin built onto a bench and was safe. [Ed. note: that diameter seems very unlikely for one tree but the late pioneer Joe Jacobin Sr. explained that sometimes the first-growth cedars he logged grew together and formed a combined trunk.]
The children attended a little log schoolhouse built by the pioneers. It was two miles distant from the cabin and on the opposite bank of Illabot creek, which they crossed on an old log. The pioneers made the seats, desks and blackboards. Each family bought their own books. The school term lasted three months each year. Edith Whitney of Mount Vernon was the first teacher.
As soon as they were able, the four older children carried eggs six miles to a little store at what is now Marblemount and traded them for groceries, which they carried back with them. Mrs. Martin was a godly woman and had the family altar erected in their home from the first, and church services were held there as often as possible. In this way, she kept faith in God alive through the trying years in the Upper Skagit
On October 9, 1933, Henry and his wife celebrated their golden wedding in their home, the first ever celebrated in the upper valley. Mrs. Martin passed away on July 18, 1937.
There were nine children born in the home. Their son, Fred Sr., was director of agriculture for four years at Olympia and also served in the state senate. there are at present 21 living grandchildren and 19 great-grandchildren.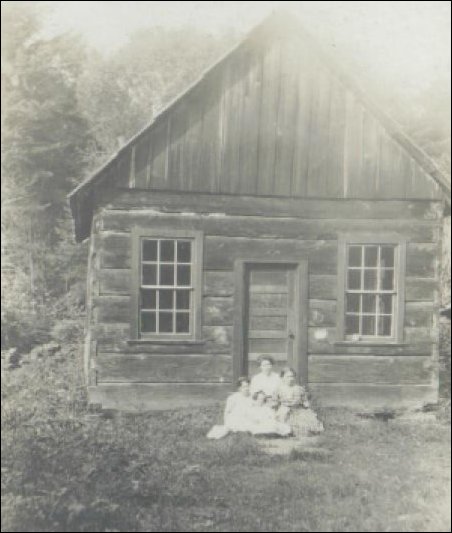 The schoolhouse that Henry Martin helped build near Illabot creek


Mr. Martin has the distinction of having had 17 grandsons serving overseas in World War II. At present, his youngest grandson, Douglas Martin, is serving in the Army in Japan. Major Vernon F. Pressentin, another grandson, is now with the U.S. Army in Austria. He is the son of Mr. and Mrs. Frank Pressentin of Marblemount.
Mr. Martin is still living and will be 91 on August 25 [1951]. He makes his home at present with his son and wife, Mr. and Mrs. Fred Martin Sr., in Vancouver, Washington, where Fred has a government position.

Martin genealogical information:

presented to the Charles Carroll of Carrollton chapter of Daughters of American Revolution [DAR], Sedro-Woolley, Washington, with the help of Mrs. Susanna Kinney, a school teacher of Rockport, Washington


Henry Martin born Aug. 25, 1860 in [Mechanic], Sussex, New Brunswick, Canada. Son of Michael Martin,who was born in Cork, Ireland, and Bridget Hayden, born in England Henry married Catherine O'Connor on Aug. 12, 1883, in Graceville, Minnesota [That town in a 1945 Atlas had a population of 1,000. It was very near the far western end of Minnesota, just south of the border of North and South Dakota. Family tree says Oct. 9, 1883, in Graceville, New Brunswick] She was born in New Brusnswick and died July 18, 1936 in Sedro-Woolley She was the daughter of Roderick O'Connor, who was born in Ireland Henry did not know her mother's name

Their children [from family tree, can you correct any of the data?]:
Jerome Martin born March 24, 1885, married Dorothy McAllister December 1912

Mabel Kathryn was born Dec. 27, 1885, in Little Falls, Minnesota, and died July 2, 1975, in Sedro-Woolley. She married Frank Pressentin on June 17, 1903, in Seattle.

Roderick born May 7, 1887, died 1966, married Trudy Frodel in January 1917

Mary Bridget born Dec. 20, 1888 in Minnesota; died Oct. 28, 1968; married Thomas E. Ryan

Evelyn Ann born Dec. 5, 1894; died 1968; married Harry C. Swettenam; they lived in Hamilton.

Fred Jerome born April 4, 1897 at Marin ranch; died May 22, 1995 in Mount Vernon; married Elsie Tripp September 1923.

Eleanor Margaret "Dolly" born June 26, 1898, married William W. Hudson

Kathryn Frances was born June 19, 1899, and died 1924. She married George Brinck.

Elizabeth Josephine born June 30, 1914 [we believe this is incorrect], in Rockport, married Edward von Pressentin

---
Links, background reading and sources
We plan to complete update, correct and add to this entire Martin family series within this next year. Can you help with copies of documents or photos, or memories?

A 1945 biography of the Henry A. Martin family by Susanna Kinney and excerpts of their genealogy

Obituaries of Henry A. Martin and his wife, Katherine O'Connor Martin

Two interviews with Fred Martin, son of Henry and a state senator and administrator, one from 1979 in the Concrete Herald and another from 1959 in the Puget Sound Mail, which featured his remarks at the annual Historical Society picnic.

How the Martin family hosted upriver Catholic services that led to St. Catherine's mission of Concrete.

You can find links to many more features and pioneers at this Upriver Portal website.

Our exclusive 3-part history of Sauk City on the south shore of the Skagit — which is now a pasture, and Sauk on the north shore, a railroad town, and the pioneer miners, farmers and storekeepers who braved the remote wilderness and the constant threat of floods on the trail to the Monte Cristo mines. Part of our 8-part Sauk section.

A transcription of a Ray Jordan story about old Sauk City and the difficult transportation to and from.

Old Sauk City and new (north-shore) Sauk memories of the Wainright and Gay families, with information by Diane Marie Wainright McMurdie, and a transcription of a Ray Jordan story about old Sauk City.

Capsule biographies of North Cascades pioneers, A-L

Capsule biographies of North Cascades pioneers, M-Z

---
Story posted on Jan. 8, 2003, transferred to this domain June 30, 2009
Please report any broken links so we can update them
This article originally appeared in Issue 12 of our Subscribers-paid Journal
---
See this Journal website for a timeline of local, state, national, international events for years of the pioneer period.
Did you enjoy this story? Remember, as with all our features, this story is a draft and will evolve as we discover more information and photos. This process continues until we eventually compile a book about Northwest history. Can you help?
Remember; we welcome correction & criticism.
Please report any broken links or files that do not open and we will send you the correct link. With more than 550 features, we depend on your report. Thank you.
Read about how you can order CDs that include our photo features from the first five years of our Subscribers Edition. Perfect for gifts.


You can click the donation button to contribute to the rising costs of this site. You can also subscribe to our optional Subscribers-Paid Journal magazine online, which has entered its seventh year with exclusive stories, in-depth research and photos that are shared with our subscribers first. You can go here to read the preview edition to see examples of our in-depth research or read how and why to subscribe.

---
You can read the history websites about our prime sponsors
Would you like information about how to join them?


Oliver-Hammer Clothes Shop at 817 Metcalf Street in downtown Sedro-Woolley, 88 years.


Peace and quiet at the Alpine RV Park, just north of Marblemount on Hwy 20, day, week or month, perfect for hunting or fishing
Park your RV or pitch a tent by the Skagit River, just a short drive from Winthrop or Sedro-Woolley


Joy's Sedro-Woolley Bakery-Cafe at 823 Metcalf Street in downtown Sedro-Woolley.


Check out Sedro-Woolley First section for links to all stories and reasons to shop here first
or make this your destination on your visit or vacation.


Are you looking to buy or sell a historic property, business or residence?
We may be able to assist. Email us for details.

| | |
| --- | --- |
| Did you find what you were seeking? We have helped many people find individual names or places, so email if you have any difficulty. | Tip: Put quotation marks around a specific name or item of two words or more, and then experiment with different combinations of the words without quote marks. We are currently researching some of the names most recently searched for — check the list here. Maybe you have searched for one of them? |
Please sign our guestbook so our readers will know where you found out about us, or share something you know about the Skagit River or your memories or those of your family. Share your reactions or suggestions or comment on our Journal. Thank you for taking time out of your busy day to visit our site.



View My Guestbook
Sign My Guestbook


Email us at: skagitriverjournal@gmail.com

Mail copies/documents to Street address: Skagit River Journal, 810 Central Ave., Sedro-Woolley, WA, 98284.