Utopia features: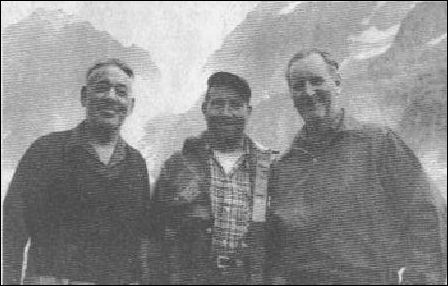 From l. to r.: Brown Wiseman, Raleigh Wiseman and Chuck Dwelley while climbing the North Cascades in an unknown year before 1975, after Brown planted fish in the mountain lakes. Click on photo for story. The story can be found at this address.
---
We have spent the last two years visiting and researching with descendants of the pioneers of the Utopia district near Lyman for a section we plan later this month. Can you help with memories or scans of photos? We are looking for: Betscharts, Kings, Seversons, Powells, Atwells, Leggetts, Reisches, Johnsons, Silverthorns, Utopia school alumni, Marchants, Giffords, McConnells, McCalibs, Minklers, George Arnolds, Daesners, Behrens and anyone else who lived there. Please email us if you know details and pass this on to anyone you might know from those families.

During Founders Days the 1914 bank robbery is reenacted, but the Bingham Bank was robbed in 1933 and people are still alive who remember the sadness that gripped Sedro-Woolley when night watchman Carl Strom of Utopia was murdered.

Brown Wiseman planted fish in high-country, North Cascades lakes and streams in the 1920s and '30s while he was a schoolteacher. Also includes his experience with the True-Love Bandit in 1914. This story will soon be changed to this address. If neither file connects, please email us.
Helen Mathews Burns, now 91, recalls her childhood home in the Utopia district — also the home of your humble editor, and her father, James Hood Mathews. Includes the story of their relatives, the pioneer George Brosseau and family of Sterling and old Sedro, and their friends, the Reische and Atwell families of Utopia.

Alexander Ross, who homesteaded an island in the Utopia district of the Skagit river and imported fine cattle after a life on the bounding main. We find that he was lured to this area by David Batey, one of the four bachelors who settled future Sedro, when Batey and Ross met in San Francisco.

The late Bill Newberg, the boy from the Utopia area who graduated in 1929 and went on to help engineer the construction of B-29s in World War II and then ascended to the presidency of Dodge and Chrysler. Interview at age 92. This story will soon be changed to this address. If neither file connects, please email us.

---
Links for the Skiyou District, between Sedro-Woolley and Utopia
---
Lyman and Cockreham Island features
---
Hamilton features: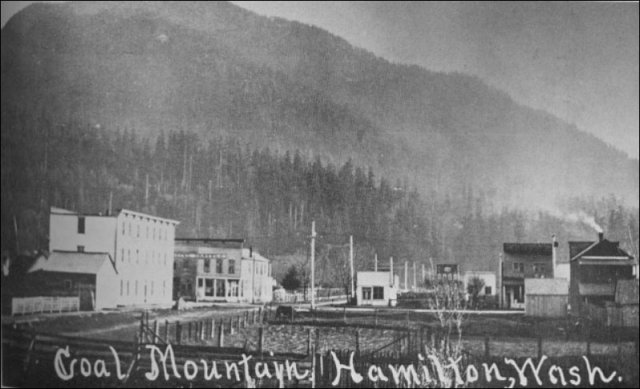 This undated photograph was often printed on postcards [*see next paragraph] See next paragraph near the turn of the 20th century. It is a truly a puzzlement, as people might have said back then, because most of the building are news to anyone who has seen the photo. We have no idea who the photographer was or what year the photo was taken, much less are we sure of which streets are crossing. At first, we thought that the view is looking south over the young town of Hamilton, with Coal mountain looming behind on the south shore of the Skagit river. That would mean that the streets are: diagonal-left-to-right — Cumberland Street, and horizontal — Maple Street.Or . . . are we looking west-southwest at the same streets, but switched in direction? We have begun to wonder about this because of the mountains in the background and the curved slopes of Iron Mountain and Coal Mountain. Just to confuse matters further, was this photo [*see next paragraph] taken before the disastrous 1897 flood that wiped out the early town by the river — i.e., could the diagonal street be Cumberland and is the horizontal street, Water Street, which is now covered by the Skagit River? We hope a reader can identify when it was taken, in what direction and what the buildings are in the photo. This is truly one of the most mysterious and fascinating photos that have been passed down in family collections from generation to generations.
*One of our sponsors shows how many people are printing photos like this at home using high quality Dell toner. Discover how to do this on your own computer at this Dell link here and here.

Research of early Hamilton
Mollie Dowdle stories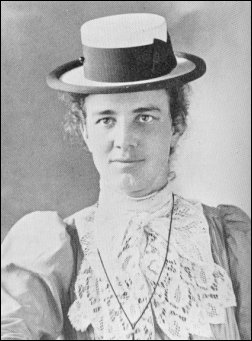 Sadie Silverling Cudworth came to Marblemount in 1909 and for the next six decades she hosted folks at her hotel. We plan to feature her life extensively in 2012 along with Herman Rhode, the packer who lived at the hotel. We are still researching and we hope that readers can help, with memories, documents or photos. We especially hope to hear from descendants of Hugh Cudworth, her husband. He was from Whatcom County and sometime in the late Teen years or the early 1920s he moved away to Hollywood, and worked with the silent movies.
---
Introduction to the late Mollie Dowdle and links to all her stories that are transcribed in the Journal. An emigre from North Carolina, she became a voice for Tarheels and country folk in the Skagit Valley and the North Cascades.

Mollie Dowdle lived to the age of 97 and she had quite a gene pool. In this 1963 column, she told us about her father, his Tarheel values and how her family maintained the values and culture in Hamilton and the upper Skagit River.

In a 1966 column, Mollie reflected on her Tarheel ancestry and eternal laughter with her upper Skagit River family.

In a 1975 column, Mollie Dowdle wrote about springtime along the fence and behind the barn on the family's upper Skagit River farm, and the ubiquitous cottonwood trees.

In a 1963 column, Mollie wrote about her mother and the challenge she faced with her family, setting up a home clear across the country.

Mollie tells the story of how her beloved grandfather, Malcolm Wood, moved his family and four-year-old Mollie out to the Skagit Valley from North Carolina, where poverty, disease and death had taken several of them while very young.

We especially thank Pat Hegg Brown, Deanna Ammons, Bernie Leaf and Larry Spurling for the large collection of articles that they have shared with us, some of which includes these columns. We encourage readers to share similar columns with us. We also welcome copies of old newspapers, especially those before 1920 and copies of the annual Puget Sound Mail Pioneer Picnic special editions of any year. We never ask for your originals. Please either send us scans or for copies, you can find our mail address at the top or bottom of this story.

Stories of the upper Skagit River Quall and Cary families by Mollie Dowdle; memories of the families and the 1916 reunion by Gladys Ellis Pape Miller, descendant of the Savage and Boyd families; and Journal research.

Pioneer cemetery of the Qualls and Carys, by Mollie Dowdle, from her 1985 book, My Best Loved Stories.

Mollie Dowdle tells the story of little Gar Green learning the facts of life as midwife Mrs. Tingley races to deliver a Pioneer Baby. This story will soon be changed to this address. If neither file connects, please email us.

Mollie Dowdle shares her favorite Christmas memories, when her son Wal shipped out for service in the Korean War before Christmas 1952. For anyone who knows Wal, you will love the story of how he played Santa Claus while there.

What is your favorite Mollie story? Let us know and we will put it on our list to transcribe.

---
Profiles of Frank Wilkeson and a collection
of his columns written while living here

See a list of links to all of Frank Wilkeson's columns on our site. Most of them are about fishing and hunting in the area from old Sedro, across the Cascades to Lake Chelan. And read about Patricia N. McAndrew's new book, The Old Soldier Goes Fishing — planned for publication in 2012-13, a collection of his columns and a biography of Frank and his family, with chapters by the Skagit River Journal editor.

---
Birdsview features/Baker Lake:
---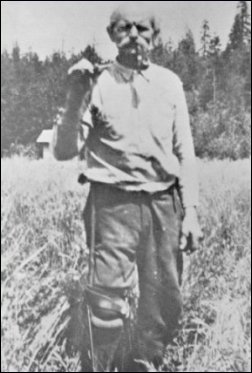 Amasa Pegleg Everett, on his homestead on the east side of the Baker river, circa the turn of the 20th century. Click photo for his story.
---
Concrete/Baker river features:
---
Rockport and Marblemount features: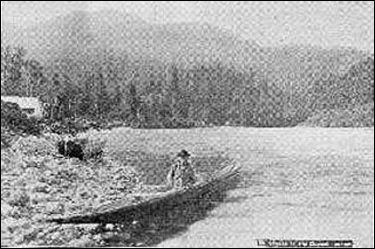 This photo of an Indian canoe near Marblemount was taken by Darius Kinsey of Sedro-Woolley and appeared in Sebring's Illustrated magazine in 1902. See the story about Otto Pressentin and how he reacted to the 1897 Skagit River flood when he was a schoolteacher in Marblemount.
---
Dick Harris shares a poem, This River Sings, from his upcoming book, drafted at the memorial service for his brother Jim. (With Jim Harris' obituary). His collection of poems, Reimagine, was published in 2010.

The Rockport Hotel Fireof 1952, a profile of its owner Hugo Bauman, and memories of Will D. Jenkins. This story will soon be changed to this address. If neither file connects, please email us.

Hugo Bauman and Will D. "Bob" Jenkins's tales of the upper Skagit. This story will soon be changed to this address. If neither file connects, please email us.

Bessie Porter's memories of Sauk City, Rockport, Pressentins, Martins and the Great Northern railroad. And Ted Porter's memories and photos of Tom Porter and his famous cabin near Illabot Creek.

R.I.P. Hazel Tracy, a lovely lady who lived in Marblemount almost all of her 91 years. She was the niece of the famous Sadie Silverling Cudworth, whose hotel and bar were a fixture there for more than 50 years. We are still working on a profile of Sadie, who certainly had pluck, making a life of her own while the elusive Mr. Cudworth went to Hollywood to build sets for silent movies. We hope a reader has some new information about her. We met a descendant of the family a few years ago, Sadie Sullivan, but we have lost touch. Please email if you can help.

Otto Peterson, Marblemount pioneer, tells about marketing moonshine on the Skagit river

Early history of Marblemount and the Buller family, which includes a story about Clark's Cabins and the indomitable Tootsie Clark.

Tom Benton's story about his ancestors, A. von Pressentin and Ed Pressentin and their roles in the early growth of Rockport.

Cascade Pass and the 1895 (almost) wagon road
Bert Huntoon, engineer and photographer of Cascade Pass, Fairhaven and Mount Baker. Member of the original field team to survey the proposed Cascade Road in 1895. This story will soon be changed to this address. If neither file connects, please email us. Being updated soon with the rest of the surprising story of his family, which we recently discovered.

Chapter 4: Otto, settlers and Indians cross the Cascade Pass in 1877 for gold, bears and a goat that jumped in the boat

Introduction to this Cascade Pass series, with links to all the stories about the 80-year process to build a wagon road, which finally became the North Cross-State Highway in 1972 and is now Highway 20, via Rainy Pass. More stories in series: Early Cascade road efforts. Journal research about the original 1895 Washington State Legislature appropriation and survey; background from regional writers, a 1903 Skagit Times story about the Goat Trail; Will D. "Bob Jenkins's story of the Devil's Elbow . . . Revived plans for the Cascade Pass wagon road before and after David G. McInytre's campaign. . . . Washingtonian magazine, a January 1929 article about the campaign that McIntyre led to kick-start the Cascade Pass wagon road. . . . David G. McIntyre profile and links about Skagit Steel & Iron Works. . . .

---
Links, background reading and books on Sauk City through Monte Cristo
---
Illabot Creek
---
Dams, mines, passes Cascade river & Cascade mountains:
Links for Mines and Mining pioneers throughout the North Cascades