of History & Folklore
Subscribers Edition, where 450 of 700 stories originate
The most in-depth, comprehensive site about the Skagit
Covers from British Columbia to Puget Sound. Counties covered: Skagit, Whatcom, Island, San Juan, Snohomish & BC. An evolving history dedicated to committing random acts of historical kindness

Noel V. Bourasaw, editor 810 Central Ave., Sedro-Woolley, Washington, 98284
Home of the Tarheel Stomp Mortimer Cook slept here & named the town Bug


Site founded Sept. 1, 2000. We passed 5 million page views on June 6, 2011
The home pages remain free of any charge. We need donations or subscriptions to continue.
Please pass on this website link to your family, relatives, friends and clients.

Katy Savage Pulsipher, a "Blithe Spirit"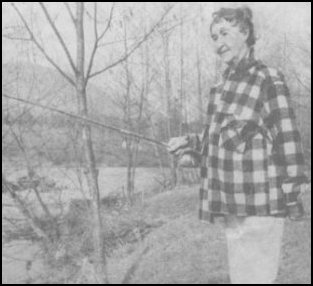 Catherine fishing 1970.
From the original Herald article.

---

Journal ed. note: When we transcribed this original story below, we only lightly edited in some cases for correction of spelling or to provide continuity. We have been looking for the story behind Catherine Pulsipher for nearly 20 years. We finally found major elements of it in 2002, courtesy of Barb Thompson, a descendant of George Savage of Birdsview, and her cousin Dan Royal. Barb lived on part of the original Savage homestead, south of the Skagit river near Mill Creek through 2010. George and Georgetta Savage moved to the southern shore of the Skagit river in 1878. Barb has carefully maintained many of the original family documents and photos, especially those of Catherine, who was one of Skagit county's finest pioneer writers and a veritable salt of the earth.

---
Catherine "Toots" Savage Pulsipher:
How does one catch a blithe spirit
with a zest for life?


By Doris Norris, Skagit Valley Herald Special Edition 1970

How does one catch a blithe spirit on paper?
How does one capture in black and white a young woman of 78 who thinks nothing of hiking several miles every day, of shooting her own deer each fall and fishing for her own breakfast?
And how does one include in this written picture a poet and historian?


Any time, any amount, please help build our travel and research fund for what promises to be a very busy 2011, traveling to mine resources from California to Washington and maybe beyond. Depth of research determined by the level of aid from readers. Because of our recent illness, our research fund is completely bare. See many examples of how you can aid our project and help us continue for another ten years. And subscriptions to our optional Subscribers Online Magazine (launched 2000) by donation too. Thank you.


---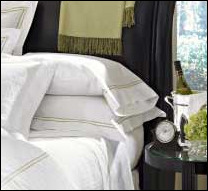 We recently visited our newest sponsor, Plumeria Bay, which is based in Birdsview, just a short walk away from the Royal family's famous Stumpranch, and is your source for the finest down bedding. See our Journal feature on this local business and learn more details and how to order items at their website.

---





Catherine Pulsipher, born in LaConner in 1892, has a zest for life many younger people might well envy. She hikes because she loves to commune with nature, and to test her ability — just to prove she can.
Although she admitted that she didn't have any luck last deer season, in her day she has not only shot deer, but mountain goat and bear. And few are the seasons that she hasn't bagged her game.
Mrs. Pulsipher's parents, [George and Georgetta] Savage, are among the area's earliest pioneers, and her older sister, Olive, was the first white child born at Utsalady, an early lumber camp on Camano Island.
Her father owned and operated several different lumber mills in the area, and she and her husband, Henry, live on the family homestead near Mill Creek, [which is east] of Day Creek on the south bank of the Skagit river. [This is near where] her father had a sawmill.
As a child, she lived in the Socialist [Equality] Colony on Bow Hill, where her father had a contract to log, run the mill, put out lumber and build cabins. She is now helping Ford Smith of Everett write a book on the history of the rather famous colony.
Up until 1952, when the Dalles Bridge was constructed, the only way the Pulsiphers could get to their home was by rowboat, and then by ferry, which carried some 400 loggers across the river each day. The ferry now resides, dry-docked, at the county park at Rockport.
After her father's death, Catherine helped her sisters and mother run a boarding house for loggers, and in 1913 she met and married one of the boarders, Henry [Happy] Pulsipher, a brakeman on a logging train.
The couple moved from one logging camp to another until their daughter, Zola, started school. The family put down roots in Bellingham until she graduated from high school.
Most of the time since then, Catherine has made her headquarters at Mill Creek, where she can wander up and down old lumber roads, fish out the front door (practically) and hunt out the back door — more or less!
She also cares for her many flower beds, while her husband raises vegetables and chickens. And during her free time she writes poetry, sometimes contributing to the Sonnets and Satire column in the Skagit Valley Herald.
She admits that she hasn't taken too many overnight hikes lately. Last summer she and her daughter hiked up Cascade Pass and back, and several summers ago they backpacked into Holden, a trip that took about five days. It isn't that she no longer thinks she can — she just hasn't had the time!
Perhaps the best way to write a visual picture of Catherine Pulsipher is to share a bit of her poetry:

God of the Mountains teach me to be
Pure in thought, in spirit free;
Big in soul and broad in mind,
Thyself through outdoors let me find.

God of the Pinewood, make me know
The joy of watching thy forests grow;
Grant me the deep and lasting peace
That Thy trees can to me release

God of the Sunset, let me be strong.
With thy love, help my way along;
Help me to watch, to pray, to do,
To keep ever the stars in view.

Toots and her mess of fish


Toots the Woodsman's moll


Toots the trapperette


Those who knew and loved Catherine called her "Toots." Click on these thumbnails for the full-sized photos. All these photos courtesy of Barbara Thompson, a granddaughter of Bert and Kate (Halladay) Savage; Bert was one of George Savage's sons and a brother to Catherine. The photos are from a scrapbook maintained by Catherine's daughter, Zola, and the scans are by Dan Royal. His great-great-grandfather, Capt. L.A. Boyd, was Savage's brother-in-law. Boyd and his family joined Savage at the ranch in 1883. Dan's great-grandmother, Mabel Boyd Royal Steen, along with Catherine, is to be congratulated for leaving such an extensive taped and written record of the combined families. Dan Royal has a great newsletter for the Boyds, Royals and Savages, plus their related families. You can email him at dmoroyal@earthlink.net for copies or to contribute material for the site. We plan to share more of Catherine's magnificent writing and historical anecdotes in the near future. If you have any photos, scans, documents or memories to share for this section, please check the contact information below.

---
Links, background reading and sources
---
Story posted Jan. 24, 2002, last updated on Dec. 7, 2003, and moved to this domain on Aug. 22, 2011
Please report any broken links so we can update them
This article originally appeared in Issue 8, and updated in Issue 56 of our Subscribers-paid Journal online magazine
---
See this Journal Timeline website of local, state, national, international events for years of the pioneer period.
Did you enjoy this story? Remember, as with all our features, this story is a draft and will evolve as we discover more information and photos. This process continues until we eventually compile a book about Northwest history. Can you help?
Remember; we welcome correction & criticism.
Please report any broken links or files that do not open and we will send you the correct link. With more than 700 features, we depend on your report. Thank you.
Read about how you can order CDs that include our photo features from the first five years of our Subscribers Edition. Perfect for gifts.


You can click the donation button to contribute to the rising costs of this site. See many examples of how you can aid our project and help us continue for another ten years. You can also subscribe to our optional Subscribers-Paid Journal magazine online, which celebrated its tenth anniversary in September 2010, with exclusive stories, in-depth research and photos that are shared with our subscribers first. You can go here to read the preview edition to see examples of our in-depth research or read how and why to subscribe.

---
You can read the history websites about our prime sponsors
Would you like information about how to join them in advertising?

Our newest sponsor, Plumeria Bay, is based in Birdsview, just a short walk away from the Royal family's famous Stumpranch, and is your source for the finest down comforters, pillows, featherbeds andduvet covers and bed linens. Order directly from their website and learn more about this intriguing local business.


Oliver-Hammer Clothes Shop at 817 Metcalf Street in downtown Sedro-Woolley, 90 years continually in business.


Peace and quiet at the Alpine RV Park, just north of Marblemount on Hwy 20, day, week or month, perfect for hunting or fishing. Park your RV or pitch a tent — for as little as $5 per night — by the Skagit River, just a short drive from Winthrop or Sedro-Woolley. Alpine is doubling in capacity for RVs and camping in 2011.


Joy's Sedro-Woolley Bakery-Cafe at 823 Metcalf Street in downtown Sedro-Woolley.


Check out Sedro-Woolley First section for links to all stories and reasons to shop here first
or make this your destination on your visit or vacation.


Are you looking to buy or sell a historic property, business or residence?
We may be able to assist. Email us for details.

| | |
| --- | --- |
| Did you find what you were seeking? We have helped many people find individual names or places, so email if you have any difficulty. | Tip: Put quotation marks around a specific name or item of two words or more, and then experiment with different combinations of the words without quote marks. We are currently researching some of the names most recently searched for — check the list here. Maybe you have searched for one of them? |
Please sign our guestbook so our readers will know where you found out about us, or share something you know about the Skagit River or your memories or those of your family. Share your reactions or suggestions or comment on our Journal. Thank you for taking time out of your busy day to visit our site.



View My Guestbook
Sign My Guestbook


Email us at: skagitriverjournal@gmail.com

Mail copies/documents to Street address: Skagit River Journal, 810 Central Ave., Sedro-Woolley, WA, 98284.