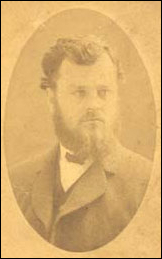 Frank in middle age, circa 1883, about the time he first began touring mining camps in the Rockies and the Northwest states for newspaper columns.
---
We are proud that one of our goals that we set five years for this website has been accomplished: connecting descendants of our pioneers and discovering material, events and people that has never been recorded before or that have fallen through the cracks of history. But in 2006, one of our special goals was reached: finding photos of Frank Wilkeson; we have been searching for 12 years. Elizabeth Edwards, his great-great-great-granddaughter who lives in Utah, saw our site and was excited that her own search for the roots of her family has been rewarded. Her father is Stephen M. Wheeler, son of Evelyn Smith Wheeler, daughter of Mary Wilkeson Smith, daughter of Bayard Wilkeson, son of Frank Wilkeson. Bayard's wife, Evelyn Miller Wilkeson, was the first white woman to cross the North Cascades on foot, carrying her three-year-old daughter, Mary, papoose-style, on her back. We will share more information shortly.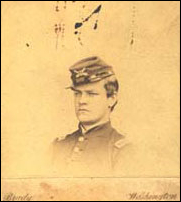 Frank as a young Union Army captain in the Civil war, photographed by Matthew Brady, as his father was; see below.
---