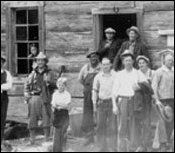 This is a photo of what became jokingly called "Gilbert's Groupies," people who exerted themselves back in the '40s and '50s to follow a dirt and gravel road more than 20 miles, tote tools and parts and food down a forest path to the cabin and repair it time after time. Some of these fellers are pretty young. Might some of them still be around? Can you recognize any of them? We have blown up the photo.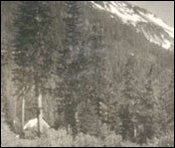 Click on either of these photos to see a larger-format version. Photo on the left courtesy of the collection of North Cascades National Park Service Complex. Above photo from the Hazel Tracy Photograph Collection, copy courtesy of Dr. Albert Merritt.
Far left. This is a photo taken in 1951 when people in the Cascade river area used to gather there for picnics. From the North Cascades National Park Service Complex photo collection.
Center: This photo was taken decades ago, looking east towards Cascade pass. Gilbert Landre's cabin is in the left center near the creek and Johannesberg Mountain is out of the frame to the right. Photo courtesy of Dr. Albert Merritt and the Hazel Tracy collection. Hazel was a niece of Sadie Silverling, the legendary hotel owner in Marblemount. Hazel passed away in 2003.