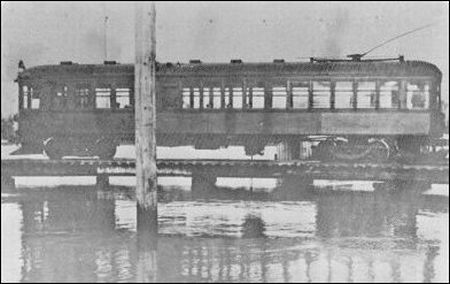 Mount Vernon turnaround for the Interurban (click photo for story)
---
We share a six-part series on the Interurban electrified railroad that ran north to south between Mount Vernon and Bellingham, and west to east from Burlington to Sedro-Woolley, from 1912-29 (this series was shared first with our subscribers). Local runs were just a nickel and travelers north to Bellingham got a hair-raising ride out over the bay, under the steep cliffs of Chuckanut, on a rickety wooden trestle, an experience that all riders of a certain age will never forget. In this series you will also find history and photos of the Great Northern's Chuckanut new cut-off route that was constructed in 1902-03, and Sedro-Woolley's Dollar Way, the first concrete highway in Skagit County.
This Andy Loft photo of the Mount Vernon turnaround from the book, Skagit Settlers, is most interesting. The caption reads: "At the end of the interurban line in Mount Vernon the cars turned around on a curving trestle over the river where the Moose Hall now stands. This was outside the dike and when the river was very high, as in this picture, the muddy waters swirling underneath made the turn-around somewhat frightening." We hope that a reader will have other photos of the waterfront and the turnaround spot of this time that will show this are be-fore the present revetment was built. See the book, which is still for sale at the LaConner Museum, for more photos, and for a full treatment of the Interurban, look for Warren Wing's spectacular 1988 book, To Seattle by Trolley. Chock-full of photos of both the southern branch and the northern — Whatcom and Skagit — branch of Stone & Webster's Interurban, the typography for this book was provided by Sedro-Woolley's own A2Z Graphics.

Any time, any amount, please help build our travel and research fund for what promises to be a very busy 2011, traveling to mine resources from California to Washington and maybe beyond. Depth of research determined by the level of aid from readers. Because of our recent illness, our research fund is completely bare. See many examples of how you can aid our project and help us continue for another ten years. And subscriptions to our optional Subscribers Online Magazine (launched 2000) by donation too. Thank you.