John Muir and the Douglas fir of Washington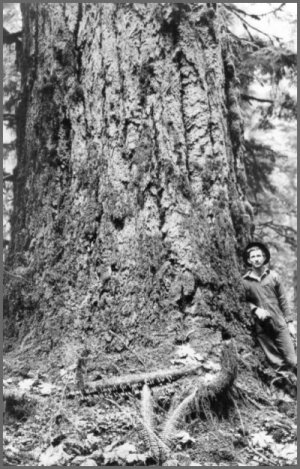 See caption below
---
Two Scotsmen toured Washington's forest two generations apart but left distinct footprints in our moss. David Douglas, born in 1798, sailed to Fort Vancouver in 1825 and walked thousands of miles through forests in Washington, Oregon, Washington and Alaska over the next eight years. Along the way, he left his mark on the Oregon pine, Pseudotsuga menziesii, which was renamed in his honor. He discovered this grand tree, which once stood in thick forests all over the site of present Sedro-Woolley, when he took a 900-mile trip through Oregon forests in 1925-26. On his second trip through this region in 1833, he almost lost his life in a harrowing canoe accident on the Fraser river in British Columbia; he did lose all his notes and his vast botanical collection. He died a horrible death in 1834 in Hawaii, when he tripped into a hunter's pit trap that also held a wild bull.
John Muir, the author of this article, was born in 1838 and walked the Washington woods in 1889, when he was 51 years old. He had moved to California in 1868 at age 30 and made that state his headquarters as he hiked all over North and South America, Australia and Africa. In 1880 he married Louie Wanda Strentzel, whose father was a pioneer winegrower in California, and Muir grew fruit trees there for 11 years. The year after this walk in Washington that he describes, he led the campaign for an act of Congress that established Yosemite and Sequoia National Parks in 1890, and in 1892 he founded the Sierra Club, serving as its first president. He fought commercial interests for the next ten years over preserving the forests of California, finally convincing President Theodore Roosevelt to set large blocks of acreage aside. In addition to his many articles, he published several books during his lifetime. Muir Woods, a sequoia forest near San Francisco, was named in his honor and the John Muir Trust acquires wildlands in Britain.

---
Journal editor note:

While looking at logger Frank Gee and his remarkable gigantic friend in the photo at the upper right, you might want to sit back and try to think what his life must have been like in the Washington woods in the 1920s. When the weather was just right, you worked seven days a week. At other times it was just six days or five and a half around the holidays.
Think of the rapturous feelings of these brawny men when they got the weekend off and headed down to Wild Woolley town to get a real bath, great food at the Osterman House or the Wixson Hotel, and amusements of all sorts all over town. Except you did not want to stagger down Metcalf between Ferry and State when it was still light out. That was the family area and marshal Chauncey Ingham might just thump you over the head if you scared the children or the horses.
Art Robinson, an old Tarheel (North Carolina) logger and uncle of the famous Pinky Robinson (of Oliver Hammer Clothes Shop of Sedro-Woolley), took my family out to a first-growth forest back in the early '50s and showed us some of the giant trees that predated the Protestant Reformation of the 16th century. Describing the sensation he felt when one of the firs crashed to the forest floor, he asked me to imagine my school bus dropping from the top of the tree. "It's like one of them San Francisco earthquakes every time," he drawled. Photo courtesy of the late Wyman Hammer.