Site founded Sept. 1, 2000. We passed 3.5 million page views on Oct. 10, 2009
The home pages remain free of any charge.
Please pass on this website link to your family, relatives, friends and clients.

of History & Folklore
Free Home Page Stories & Photos
The most in-depth, comprehensive site about the Skagit
Covers from British Columbia to Puget Sound. Counties covered: Skagit, Whatcom, Island, San Juan, Snohomish & BC. An evolving history dedicated to committing random acts of historical kindness

Profiles of John and Charles Conrad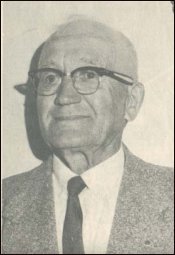 John Flood Conrad
---
---
[This is a profile of John Conrad and his family.
At the end, see the links to the yearly obituary notes that Conrad wrote.]
---
Profile of John Flood Conrad

By Royal E. "Pop" Gunn Skagit Valley Herald, Aug. 13, 1966

From 1933 to 1965 John F. Conrad operated his Chevron service station at the northeast corner of what was then called the Burlington road (now Hwy 20 in 2007) and Collins road a mile and a half west of Sedro-Woolley and a mile north of the original village of Sterling. He probably would have stayed in his rocking chair there until he died but on Feb. 15, 1965, a tractor-trailer semi jack-knifed after hitting a 1958 Chevrolet sedan driven by Dewey L. Guffey and slid into the building from the highway, shoving the car before it like a gigantic metal battering ram. The car went in the front door and exited out the back and was declared a total loss, as was the station. Luckily the station was closed at the time.
Over the years there Conrad asked nearly customer who their family was and when they moved to the valley, who their kids were and what impact their families made on the county. Always conscious of details, he scribbled down tablets full of notes. In 1949, F.L. Carter, another county pioneer and longtime owner of the Puget Sound Mail newspaper, retired as memorialist for the Skagit County Pioneer Association and nominated Conrad to take his place. Conrad dove right into his work and started a tradition called "Colorful Lives," which he narrated for 25 years at annual August pioneer picnics in La Conner.
"F" in his name stood for Flood. Shortly before he was born on May 16, 1894, the Skagit river flooded Fir Island in what was called a "spring freshet," leaving standing water all over the flat areas west of Mount Vernon to La Conner and all around Pleasant Ridge, where his father, Charles, leased a farm. That was the first of three floods that occurred in a stretch of four years. The flood of 1897 was the worst by far, especially upriver, but Conrad claimed that the flood of his birth year may have caused the most damage to the La Conner flats.
His father was Charles Conrad, a Swedish immigrant who arrived in La Conner at age 12 in 1873 via Ottumwa, Iowa. He emigrated from Sweden with his aunt after his father died and his mother died soon after he arrived in America. At Ottumwa they joined relatives, the John Anderson family, and all continued by train and steamer to Washington territory to join Charles's uncle and aunt, Magnus and Matilda Anderson, who settled in La Conner in 1869. After school at the nearby Polson house, then in Anacortes and in Seattle, he returned to the valley, took up a preemption claim at Avon and began working for area farmers. In 1885 he leased land on Pope and Talbot's Puget Mill company tract north of La Conner, which he farmed for more than 30 years. During that time he proved up on his claim and bought land at Fir in 1896. After marrying in 1885 at Pleasant Ridge, his first wife died, leaving him a widower with one child. He married John's mother, Annie B. Olsen, a Norwegian immigrant, in 1890 and she bore him seven children.
John Conrad was the ideal memorialist, first because he knew the whole county firsthand as well as its families, and second because he was like a bridge between the western and eastern sections. Most folks during the first 75 years of settlement in the county looked suspiciously at people at the opposite ends. Living near Pleasant Ridge as a child, he walked over the flats to the old Jennings grade school at Peth's Corner, which is now long gone. We can imagine that he learned a lot about statewide history at home from people like Cyrus Walker, the legendary manager of the Pope and Talbot mill at Port Gamble. Although he did not graduate from La Conner High School, his native intelligence led him to classes in business and agriculture at the state college in Pullman later on and training at the Wilson Business College in Seattle, all in between harvest seasons. By then his father had bought land at Fir, southeast of John's childhood home, and he eventually returned to farm there for 22 years before the service station came up for sale in 1933.
As he recalled in 1949 during his first memorial presentation, Conrad attended all the pioneer picnics from the earliest age he could remember except for the two years he served in the 364th Infantry regiment in France during World War I. He saw a lot of action in the hotspots, including Flanders Field, Meusse Argonne and Ste. Mihiel. He was a medic during the offensives and also a musician in camp and his service colored the rest of his life. For years afterwards he kept in contact with his fellow soldiers, some who gained great fame. Harold Burton became a noted trial attorney and was eventually named to the Supreme Court, serving until the Eisenhower presidency. Another friend, William McKay, became one of the leading auto dealers in Seattle. As an active American Legionnaire Conrad submitted the winning name of Loggerodeo for the Sedro-Woolley Fourth of July activities in 1948 when the Legion took over leadership of the event. His travels in Europe led to wanderlust all over the United States afterwards, although he was never tempted to move away.
His purchase of the service station may have been influenced by meeting Miss Thea Krangness in Bellingham sometime after the stock market crash of 1929. Still a bachelor at age 38 in 1932, he married her and within a year had left farming for good. The move to a service station was a natural one for farm boys back then; you had to know engines and have mechanical ability to keep things running on a farm. She doubtless shared his love of travel because they eventually visited every state but Alaska, many more than once and often hitting the road three times in a year.
He may have originally gotten the travel bug from his father, who took him along on many trips away from home. In 1905, when he was almost 11, his dad took him to the Portland Fair, which left quite an impression on John. His curiosity about what made things work was stimulated as he watched how the train they rode was loaded onto a ferry at Kalama, Washington, and floated across the Columbia to Portland. Toiling out in the fields with his dad brought more practical knowledge as he observed how hard men had to work to prop up dikes in the hopes that the flats would not be flooded again. But in 1909 the mother of all floods inundated the La Conner Flats again and tore up many of the dikes that had even been reinforced since the big one of 1897. We suspect that this flood may have influenced the move by Charles to move higher land near Conway the next year.
Conrad died on May 3, 1986, at United General Hospital, just a short walk east of his old station. His wife preceded him in 1980. They had no children together but he was survived by his stepson, Ted Thorson of Mount Vernon. Six years later, when I started this history research, I learned by accident that an old childhood friend from Utopia was Conrad's nephew. Maurice Erickson grew up on the old road that ran north from the Skagit to the original town of Minkler on Minkler Lake. His mother wrote the article featured in the Territorial Daughters story above. I visited Maurice at his home near Lake McMurray a couple of times and each time begged him to recall if Conrad had left any research notes, documents or photographs from the old days. One time Maurice remembered that he had an old metal box from Conrad's army days that his mother had given him. He had never been able to open it so we went back to our childhood days and acted like safecrackers. Suddenly it popped open and my eyes soon popped out. Here were the handwritten notes that Conrad transcribed in preparation for each pioneer picnic. I am still eternally grateful, Maurice, and our readers also enjoy the results as we share biographies of the pioneers who broke the sod and suffered through rain, waiting for the sun to return. Although the rain and drizzle sometimes made them frown, our Skagit pioneers had sunbeams in their minds.
Ed. note: John Flood Conrad is someone to whom I owe a tremendous debt. Unfortunately, he never wrote a book. At least we have not found a transcript so far. One of his proudest moments — and certainly a legacy for him — was the time in 1948 when he suggested the name, Loggerodeo, for the Fourth of July celebration in Sedro-Woolley, which soon became the granddaddy of them all on the West Coast. Several pioneers recounted for me the time that they would pull into John's service station on the Burlington highway and John would ply them with coffee and cookies or snacks until they shared their family memories with him. We can just imagine him there, scribbling his notes, which he eventually used for his presentations at the annual Pioneer Picnics. We are eternally grateful to Maurice Erickson, John's nephew and my old neighbor in the Utopia district east of Sedro-Woolley, for giving me carbon copies of John's original notes.

Endnote: John Conrad would retire his position as Historian and Memorialist of Skagit County Pioneer Association in 1973, choosing as his successor Dick Fallis, the new owner of Puget Sound Mail newspaper. Dick would do the same in 2006 after close to 30 years, choosing as his successor, Dan Royal to carry the tradition of remembering our pioneers, yesterday and today.

---
Territorial Daughters hear early history of Charles Conrad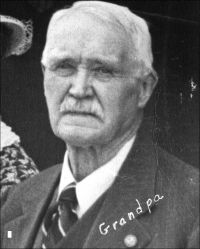 Charles Conrad. This photo was provided by Leroy Little. Leroy informed us that John Conrad and his wife Thea raised two sons from her prior marriage but had no children of their own. He also wrote that Charles Fabian Conrad was born Jan. 15, 1861, in Wadstena, Sweden, as Karl Konradson and was granted a new name on becoming a naturalized U.S. citizen.


Sedro-Woolley Courier-Times, June 23, 1949

When Territorial Daughters met Friday, June 17, at the home of Mrs. Anna Hoehn, Mrs. Cecil Soper was assistant hostess and Mrs. Sophia Erickson of Utopia was in charge of the program.
Mrs. Erickson is the sister of John F. Conrad, who operates a gas station on the Burlington road [now Hwy. 20 in 2007 . . . the station was at the northeast corner of Collins road] and who chose the name Loggerodeo for Sedro-Woolley's July 4 celebration.
For the program, Mrs. Erickson read the following article about her father, Charles Conrad, his coming to Skagit county from Sweden and about early events.
Charles Conrad

My father, Charles Conrad, when 12 years of age, an only child and with his father dead, left Sweden in 1873 accompanied by his aunt Emma. Plans were for him to send for his mother later but she died within a year.
Charles and his aunt first stopped at Ottumwa, Iowa, where an uncle, John Anderson, and wife had resided for five years. With their family of four children, they all proceeded to San Francisco and then by S.S. Prince Albert to Victoria, B.C. where they landed in November 1873. [Ed. note: Ottumwa was the same town where Sedro-Woolley pioneer Harry L. Devin lived in the same period.]
Among the passengers on this boat was the Wallace family, of which a son, Irwin, still lives west of Sedro-Woolley and he still recalls the trip. On this boat's return voyage south she was wrecked and many lives were lost.
To travel to Port Townsend for immigration reentry and then to Whidbey Island, a sloop had to be hired for the crossing of the straits and inlet. A wagon provided passage across the island and then another sloop took them across Skagit Bay and up the north fork of the Skagit river five miles, where an aunt, Matilda, and uncle, Magnus Anderson, lived, the latter a settler of 1869.
The only school available in this crude land was organized at the Polson home a couple of miles away and Alfred Polson, now of Mount Vernon, was one of the students. Later my father attended Alden Academy of Anacortes, his roommate being a neighbor, Will Cornelius, father of P.A. Cornelius of Mount Vernon.
Father worked on different farms, including that of J.O. Rudene, pioneer legislator, on the Puget Mill company tract north of La Conner. Another hired man was Peter Downey and when Mr. Rudene moved to Pleasant Ridge to marry Mrs. John Cornelius, a widow, and run her ranch, the two hired men rented and divided the Puget farm, this in the year 1884.
Previous to this, father had also farmed the pioneer Calhoun place one year, in company with Charles Elde and it was on this farming operation that the late Charles Wicker of Sedro-Woolley secured his first job in Skagit county, an experience he never forgot.
After 37 years around La Conner, 26 on the Puget farm, my father moved to the Conway vicinity, where he lived 36 years and passed away in 1946.
Three cousins, members of the pioneer trip out from Iowa in 1873, are still living: E.R. Anderson of Watsonville, California, (formerly of La Conner) who was a babe of one year on the trip; Jennie Anderson Peterson of Bellevue; and Judge Axel Anderson, Mountain Home, Idaho, who was seven years old on the journey.
Father preempted a homestead at Avon. He carried groceries home in a gunny sack through the marshland. When he went to dances he wore rubber boots and carried his dancing shoes under his arm. Even the horses had to be provided with large shoes to keep them from miring down in the swamp land while working. These shoes were made of Tules and were called Tuley shoes. Father used to shoot bear and other game as did all the pioneers.

Present at the meeting Friday were Minnie [Lederle] Batey, Filomene Vogel, Ethel [Van Fleet] Harris, Sophie Erickson, Eugennie Bergstedt, Alice Robinson, Elgie Lillpop, Ella Day, Anna Hoehn, Mrs. Soper, Susan Taylor, Bertha Carroll Davison, Eva Beebe, Reina Adams, Emmilie Duffy, Grace Cochrum, Emma Hart, Bessie Bardan, Belle Seidell, all of this territory; Maude Vanderford, Ettie Meyers and Elizabeth Roughton, all of Lyman, Lexie Sharp of La Conner and Nora Hastie of Mount Vernon.

---
Profile of Charles Conrad

Illustrated History of Skagit and Snohomish Counties, page 672

Charles Conrad is one of the Swedish-born American citizens who have easily adapted themselves to life in this country, succeeding by thrift and hard work. He was born in the old country early in the year 1861, the oldest of the three children of Conrad and Ulrika (Hector) Conrad, who passed their entire lives in their native land. [Conrad the younger] received his early education in the schools of Sweden. When twelve years of age he accompanied an aunt to La Conner and for a time worked on a dairy farm. When fourteen years of age he determined to complete his education and went to Seattle for a course in the schools there. He returned to Skagit county and worked for different farmers until in the spring of 1885 he first leased the land where he has lived for twenty years. In 1881 Mr. Conrad took up a preemption and on proving up sold out. Out of the proceeds of his farming of leased land, Mr. Conrad in 1896 bought a farm near Fir, which he still owns and operates. Being an energetic, ambitious man he has not rested from his labors until every acre of his farm has been cleared of timber and put in the best condition.
In 1885 at Pleasant Ridge Mr. Conrad married Miss Sophia M. Nelson, who died three years later, leaving two children, of whom one, Arthur, born June 28, 1888, is living. In 1890 at Seattle Mr. Conrad married again, his bride being Miss Annie B. Olsen, a native of Norway, born in 1866. Mrs. Conrad's father is still living in the old country. Of this union seven children have been born, all in Skagit county, namely: Sophia, Nellie, John, Sadie, Dewey, Rachel and Edna.
In fraternal affiliations Mr. Conrad is a member of the Ancient Order of United Workmen, while in politics he is a Republican, though not very active. The Conrads attend the Lutheran church. Mr. Conrad has lived in Skagit county since 1874 and whether as farmhand or as farmer has earned a reputation for earnestness, uprightness and energy of which he may well be proud. He enjoys in a high degree the confidence and respect of his neighbors and those with whom he comes in contact.

---

This photo of a very long log on a tractor-trailer was taken sometime in the 1950s in front of John Conrad's service station on Highway 20, then known as the Burlington road

---
John Conrad, Historian of Skagit County Pioneer Association

An example of yearly obituary notes from the annual Pioneer Picnics 1949-73

We are sharing John Flood Conrad's handwritten obituary notes, Colorful Lives, which he read every year at Pioneer Picnics on the first Thursday's in August. Sophie Erickson's son, Maurice, donated his uncle's notes to us to share with readers. "The editor lived a mile away from the Ericksons in the Utopia district east of Sedro-Woolley when we were all children, so many years ago." Here are the first chapters we have transcribed.

---
Story posted on Dec. 18, 2002, last updated Feb. 2017
Please report any broken links so we can update them

---
| | |
| --- | --- |
| Did you find what you were seeking? We have helped many people find individual names or places, email if you have any difficulty. | Tip: Put quotation marks around a specific name or item of two words or more, and then experiment with different combinations of the words without quote marks. We are currently researching some of the names most recently searched for — check the list here. Maybe you have searched for one of them? |
See this Journal Timeline website of local, state, national, international events for years of the pioneer period.
Did you enjoy these stories and histories? The process continues as we compile and collaborate on research about Northwest history. Can you help? Remember; we welcome correction, criticism and additions to the record.
Please report any broken links or files that do not open and we will send you the correct link. With more than 800 features, we depend on your report. Thank you.

If you would like to make a donation to contribute to the works of this website or any of the works of Skagit County Historical Society and Museum. We thank you up front. While in your PayPal account, consider specifying if you would like your donation restricted to a specific area of interest: General Funds, Skagit River Journal, Skagit City School, Facilities, Publication Committee, any upcoming Exhibit. Just add those instructions in the box provided by PayPal.


Please sign our guestbook so our readers will know where you found out about us, or share something you know about the Skagit River or your memories or those of your family. Share your reactions or suggestions or comment on our Journal. Thank you for taking time out of your busy day to visit our site.

Currently looking for a new guestbook!



View My Guestbook
Sign My Guestbook


Email us at: skagitriverjournal@gmail.com

Mail copies/documents to Street address: Skagit River Journal c/o Skagit County Historical Society, PO Box 818, 501 S.4th St., La Conner, WA. 98257