Site founded Sept. 1, 2000. We passed 7.75 million page views on January 2017
The home pages remain free of any charge.
Please pass on this website link to your family, relatives, friends and clients.

of History & Folklore
Free Home Page Stories & Photos
The most in-depth, comprehensive site about the Skagit
Covers from British Columbia to Puget Sound. Counties covered: Skagit, Whatcom, Island, San Juan, Snohomish & BC. An evolving history dedicated to committing random acts of historical kindness

Cargo manifest of Joshua's Green's
first trip north on the Henry Bailey in 1888
Form the Puget Sound Mail, LaConner, Aug. 3, 1967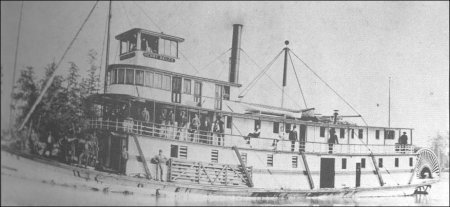 Henry Bailey sternwheeler. From the Aug. 3, 1967, Puget Sound Mail, LaConner: "Steamer Henry Bailey named for Skipper of Steamer Wenat, which in 1876 was first steamboat to make trip to the vicinity of Mount Vernon following clearing of part of big log jam."

---
Joshua Green, nearing 98 years and considered pioneer of Skagit County Pioneer Association, hardly ever missing a meeting, still holds forth full time at his bank office in Seattle. A treasured memento of his early day steamboat adventures on the Skagit River and salt water sloughs, is on display in his bookcase. It is a freight manifest of cargo, all hand written in an account book and is designated as TRIP No. 1, Tacoma to Sterling, Oct. 14-15, 1888, Steamer Henry Bailey.y.
Joshua was the young purser then almost 19 years of age, and it was his first trip as such up this Skagit county shipping channels. He had come to Puget Sound in 1886. The route of the new freight venture was from Seattle to Tacoma, Stanwood, Fir (Mann's Landing), Skagit City, Avon, Holyoke Landing, McKay's Landing, Nookachamps, Mount Vernon, Sterling and Lyman.
Prominent shippers [for the return run] listed on manifest were: D.E. Gage, Skagit City; C.H. Mann, Fir; D.O. Pearson, Stanwood; H.E. Hartson, T.G. Pickens, Clothier & English, [all of] Mount Vernon; Skagit Railway & Lumber Co., Sterling; James Jamieson, Lyman; A.H. [Skaling], Avon.
On Trip No. 1, a few of [the shipments received] on record show: soap and tobacco, D.O. Pearson; pork and tobacco, C.H. Mann; apples, Holyoke [Landing]; laundry, Nookachamps, Skagit Mill Co.; sewing machine, H.E. Hartson, Mount Vernon; boots and shoes, Skagit Railway & Lumber Co., Sterling; [merchandise], Ed Osgoodby and A.D. Miller, Avon.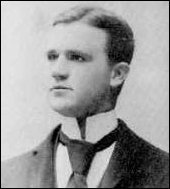 Young Joshua Green
---
On trip No. 40 to Sedro, March 19, 1889, [loaded] M.D. McEwan, 10 tons hay, $25.25; T.N. Ovenell, Avon, oats $14.50.
Trip No. 11, Nov. 17-18, 1888; J.B. Ball, Sterling, pig, 50 cents; H. Quinn, Lyman, liquor, 25 cents; A.v. Pressentin, Hamilton, hardware, 25 cents; A.H. Skaling, Avon, apples $1.90. [Ed. note: McEwan bought Mortimer Cook's original mill at old Sedro in 1888 and it burned soon afterwards. Sometime in 1888, Cook bought or leased the Skagit Railway & Lumber Co. company store in Sterling. The store's original owner, Jesse B. Ball — who founded the village, was ill and died in 1889 in Seattle. SR&L was led by Paul Polson of LaConner, who initially envisioned a railroad that would run from the upper Skagit River to LaConner but like more than a dozen other such companies, the tracks were only on paper. Two decades later, the Dempsey Brothers and Edward English brought the idea to life with the Puget Sound & Baker River Railroad, a logging train.]
Trip No. 2 was to Tacoma and Stanwood only — Oct. 16-17, 1888. Third trip — Seattle to Sterling, Oct. 20-22, 1888. Fourth trip, Seattle to Sterling, Oct. 24-25, 1888.



---
The Henry Bailey, sternwheelers and Joshua Green
Skagit River Journal research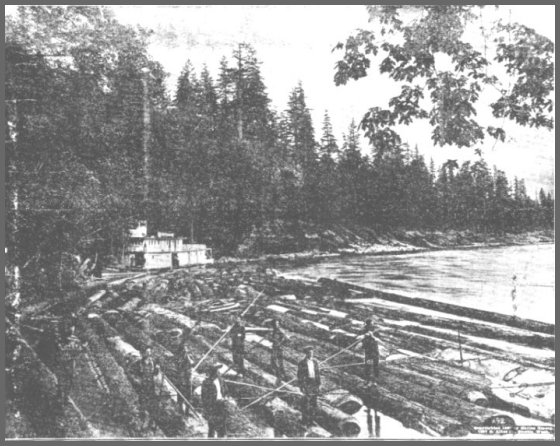 Black Prince sternwheeler towing a raft of logs on the Skagit river at the turn of the 20th century


This photo was taken before the turn of the turn of the century and was identified as the sternwheeler, Glide, by Mortimer Cook's daughter, Nina, in her memoirs. Some old-timers disagree and say it is the Black Prince. Whichever it is, it shows the kind of steamboat that brought the Bullers upriver.
Richard Buller wrote "Henry Brady" as the steamboat that first transported his family upriver but it was actually the Henry Bailey. This venerable old sternwheeler was owned by four partners, including one of the most amazing entrepreneurs of the Northwest, Joshua Green, who lived to be 105.The Henry Bailey transported many pioneer families here. P.A. Woolley's wife Catherine's diary noted that they arrived in Seattle on the Nov. 24, 1889, and then had to board the Henry Bailey sternwheeler for the trip north because northbound trains were still months away. She noted the incessant rain and her dread of the ride north. After boarding the Bailey on the 25th, they traveled overnight and arrived in Mount Vernon at noon on the 26th. If she thought the boat ride was tedious, nothing prepared her for the stagecoach ride upriver: "my first ride on a stage in my life and I never could imagine such roads." The stage trip took four hours and they reached a boarding house in Sedro at noon.
Skiyou pioneer James M. Harrison and his family arrived at Sterling on the Henry Bailey in 1889 after a long journey from Harrison County, Ohio. His son John Harrison recalled in 1939 that his dad unloaded their possessions on the bank and asked the purser if someone would steal them. "I don't know who in hell would steal them," replied the purser Joshua Green. "There is no place to take them."
Green (1869-1975) moved with his family to Seattle in 1886 and in October 1888 he signed on as purser with the Henry Bailey, which was launched that year in Tacoma. sternwheelers were preferred in river systems like the Skagit where the river level would get very shallow during dry months. Sidewheelers required deeper draft, but sternwheelers could operate in very shallow waters and they were designed to slide right up onto a bank instead of needing a full wharf, and then simply reverse engines to pull away.
Helen Barrett's delightful book: Sternwheelers and the Skagit River, published by the Skagit County Historical Society in 1971, gives wonderful details of these wonderful early boats that were an outgrowth of the Mosquito fleet on Elliott Bay in Seattle. The Bailey was 108 feet, six inches long, had a beam of 25 feet, four inches, and a hold that was four feet, seven inches deep. On Trip One the Bailey supplied "boom chains, a cow and calf, flannel, tobacco, whiskey, mill supplies, candy, sewing machines, boots and shoes" to the Skagit villages and took back shingles, hides, produce and, later on, ore samples. The company made $190.50 from the freight it carried and an equal amount from passengers. The Bailey steamed on a route from Seattle to the upper Skagit, including stops at Utsaladdy on Camano Island, Skagit City, Holyoke Landing, McKay's Landing, Mount Vernon, Sterling, Johnson's Landing and Six Mile Point. [Ed. note: Can anyone identify some of these place names or the spot, Rocky Riffle, that Richard Buller notes?]
Green was so enthused about the prospects for shipping in the area that, in 1889, he talked other Bailey officers into borrowing $5,000 to raise the Fanny Lake, which was launched in 1874 and sank in 1883, and bring it back to the Seattle-Skagit run. When raised and refitted, it was said to be "built to float on a honey dew," an ideal configuration for delivering goods to isolated locations on the upper Skagit and the LaConner Flats.
The Fanny Lake was so successful that the partners paid off the loan within a year. But in 1893, after loading 25 tons of hay at the Samuel Calhoun ranch on Sullivan slough, the hay caught fire from a spark from the boilers and both boat and cargo were completely destroyed. The Bailey sank the next year. Green and his partners, however, expanded their fleet, and created a side business of selling and delivering wholesale goods to customers in outlying towns. The firm was eventually named La Conner Trading and Transportation Co., with Joshua Green as president. Green began building his fortune when he established a shipping company to the Klondike gold areas in 1897. Years later, Green purchased Peoples Savings Bank, which had fallen on hard times, for $200,000 in 1925. He changed the name to Peoples Bank and Trust Co., which became one of the most important banks in the Northwest. After his death, U.S. Bancorp of Portland acquired Peoples Bank in 1988 and renamed it U.S. Bank of Washington. Green's family bought the original Stimson mansion at 1204 Minor on First Hill in Seattle and you can now tour this beautiful old home to catch some of the flavor of this pioneer steamboat operator's life.

---
Links, background reading and sources
---
Story posted on March 17, 2003, updated November 2017
Please report any broken links so we can update them

---
See this Journal Timeline website of local, state, national, international events for years of the pioneer period.
Did you enjoy these stories and histories? The process continues as we compile and collaborate on research about Northwest history. Can you help? Remember; we welcome correction, criticism and additions to the record.
Please report any broken links or files that do not open and we will send you the correct link. With more than 800 features, we depend on your report. Thank you.

Donations make a difference. If you would like to make a donation to contribute to any of the works of Skagit County Historical Society and Museum. From your PayPal account, consider specifying if you would like your donation restricted to a specific area of interest: General Funds, Skagit River Journal, Skagit City School, Facilities, Publication Committee, Special Events, any upcoming Exhibit. Just add those instructions in the box provided by PayPal. If not a donation, how about a Membership? Find information at this link. Thank-you! from the Director, staff and Board of Trustees


Please sign our guestbook so our readers will know where you found out about us, or share something you know about the Skagit River or your memories or those of your family. Share your reactions or suggestions or comment on our Journal. Thank you for taking time out of your busy day to visit our site.

Currently looking for a new guestbook!



View My Guestbook
Sign My Guestbook


Email us at: skagitriverjournal@gmail.com

Mail copies/documents to Street address: Skagit River Journal c/o Skagit County Historical Society, PO Box 818, 501 S.4th St., La Conner, WA. 98257