of History & Folklore

The most in-depth, comprehensive site about the Skagit
Covers from British Columbia to Puget Sound. Counties covered: Skagit, Whatcom, Island, San Juan, Snohomish & BC. An evolving history dedicated to committing random acts of historical kindness

---

Commissioners were a stern-looking group. They served from 1886 to 1888. Pictured here from left to right: Patrick Halloran of Edison and the Samish Flats, James Young of the Skagit River District and J. O. Rudene of Pleasant Ridge and the Swinomish Flats. Courtesy Skagit County Museum Collection

Noel V. Bourasaw, founder Sedro-Woolley, Washington, 98284
Home of the Tarheel Stomp Mortimer Cook slept here & named the town Bug


Site founded Sept. 1, 2000. Over 800 plus pages. We passed 7.75 million page views in January 2017
The home pages remain free of any charge.
Please pass on this website link to your family, relatives, friends and clients.

Founding of Skagit County due in part to Power politics
By Bill Reynolds
It's often said that crime doesn't take a holiday. Nor does politics, and cynics might say the two aren't mutually exclusive.
At least that was the likely view of some Bellingham area lawmakers on Nov. 28, 1883, when Washington Territorial Governor William A. Newell did the unthinkable, signing a bill lopping off Whatcom County's "lower half" and designating it as the new Skagit County.
The bold action came just a day before Thanksgiving, when Whatcom advocates in the territorial legislature had gone home for the holiday, secure in what they felt was the binding nature of an earlier 8-4 Washington Council vote defeating a bid to create Skagit County.
Mind you, this took place just seven years after the so-called "Stolen Election of 1876," which had propelled Rutherford B. Hayes into the White House amid a contested electoral count. Neither Washington, in terms of politics, was for the faint of heart in the Gilded Age.
Perhaps in response, U.S. President Chester A. Arthur proposed that Nov. 29, 1883---that month's final Thursday---be recognized as a national day of thanksgiving. His proclamation came just two days after the Council in Olympia killed the Skagit County bill. But, as events unfolded, upper Whatcom legislators had counted their turkeys before they hatched. Skagit proponents were well positioned to overcome their earlier legislative setback.
Territorial Senator James Power enjoyed a bully pulpit of sorts as owner of the Puget Sound Mail, in La Conner, and in all likelihood it was he who circulated the petition that first called for carving a new county out of southern Whatcom. Judge Power had already given the Skagit campaign a major boost by having moved his newspaper, formerly the Bellingham Bay Mail, to La Conner. The La Conner publisher found ready allies in Amos Bowman's Northwest Enterprise, in Anacortes, and savvy Territorial Representative Orrin Kincaid.
An editorial war pitting the Puget Sound Mail and Northwest Enterprise against the Whatcom Reveille ensued prior to Judge Power introducing his bill to divide Whatcom County. The Reveille asserted "that if their friends in the southern part of the county were spoiling for a fight there was no good reason why they should not have it."
The Puget Sound Mail and Northwest Enterprise answered in similar vein, opining that the argument for division was appropriate given the low regard in which the Skagit region was held by its northern neighbors. They sought greater recognition of and increased appreciation for the southern portion of Whatcom County, namely the Skagit River Valley, delta, and tidelands, and Fidalgo, Guemes, and Cypress islands.
The clash came to a head when the Territorial Legislature met in the fall of 1883. While Power's bill for separation fell short, he and Kincaid didn't rereat. After a few weeks, Kincaid simply reintroduced the measure. The timing was crucial. With the so-called "Lime Kiln Lobby" of Whatcom County having returned home, Kincaid's bill cleared both houses on Nov. 24---exactly a month after the original legislation had failed.
"Without the powerful representatives from Whatcom to help vote it down," explains Skagit County Pioneer Association Vice-President Dan Royal, "the bill passed." Gov. Newell signed it into law four days later. The Skagit-Whatcom breach was geographic as well as political, according to The 1906 Illustrated History of Skagit and Snohomish County.
"With the beginning of the epoch of the 1880s," the account notes, "the increasing population about the mouth of that superb stream of the Skagit, the largest and finest of the rivers of the sound basin, began to feel that they were paying a disproportionate amount of money into the treasury and receiving benefit in inverse ratio. The rugged range of the Chuckanut formed a barrier between the two parts of the county, and along the line represented by that chain of hills the battle for county division."
At first, according to late Skagit County Pioneer Association Historian/Memorialist Dick Fallis, the successful lobbying by Power and Kincaid seemed a Pyrrhic victory. "Except for a few bruised political egos at Whatcom," Fallis wrote 20 years ago, "the controlling forces there felt that they carved off a real turkey, one that offered more real problems than promise, and they were happy to concentrate on their own broad, open harbors, productive mines and mills, and accessible timber."
The Skagit area, by contrast, appeared to be a swampy quagmire dominated by a badly log-jammed river and susceptible to constant flooding. Appearances indeed were deceiving. "By Thanksgiving Day 1883," Fallis stressed, "the determined citizens of Skagit County were already at work in solving the problems."
Today, [November 28, 2018] going on 135 Thanksgivings later, Skagit County is world famous for its extraordinary natural beauty, rich multi-cultural heritage, diverse, vibrant economy, and vast, unlimited potential going forward.
Bill Reynolds is current Historian of Skagit County Pioneer Association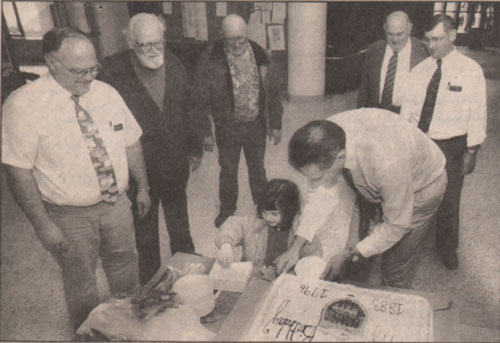 The late Past Historian of Skagit County Pioneer Association, Dick Fallis, loved celebrating the birthday of Skagit County and for years made sure the county birthday was honored yearly. This photo from Skagit Valley Herald in 1996 shows a proper 113th birthday cake ready to cut and share with county commissioners: Ted Anderson, Bob Hart, and Harvey Wolden. Representing the Pioneer Association is Dick Fallis, Bill Stendal, Jim Nelson watching his granddaughter Samie helping with the cake. The County birthday is still celebrated these days but done every five years. The 135th year will be celebrated this November 27, 2018, 11:45a.m. - at the County Administration Building with Proclamation and cake once again.
KINCAID, POWER PROVED WORTHY COUNTY FATHERS
By Dick Fallis
November 28, 1883, was the birthday of Skagit County, and this year, 1998, marks the 115th anniversary of that event that started the corporate existence of all of us who are proud to call ourselves Skagitonians. [Ed note: Dick wrote variations of this story for what feels like, countless years. Here is one of many and we will probably post more in the future. Enjoy!]
The beginning was dramatic and has often been described, but deserves to be choreographed, scripted, scored, staged and filmed so that each year at this season the event can be seen, experienced, enjoyed and celebrated again and again in all of its most deserving glory!
Basic plot is that James Power of LaConner was serving in the upper house of the Territorial Legislature representing "Lower" Whatcom County. Orrin Kincaid of Mount Vernon and upper reaches of the Skagit River was serving in the lower house of that same 1883 Legislative session.
Councilman Power presented a well-planned bill to the upper house, moving to create Skagit County out of Lower Whatcom, and that bill was defeated by Whatcom County officials and their buddies and paid lobbyists, all of whom were in cahoots to keep it from happening.
In the meantime, Rep. Kincaid brought up a similar measure which passed by a comfortable margin in the lower house, and then was rushed to the upper house for their approval.
The Whatcom officials and their cohorts were still out celebrating their victory over the would-be Skagit up-starts, and without their negative influence, the bill passed the upper house and was signed into law that very day, Nov. 28, 1883, by Washington Territorial Governor William A. Newell.
Councilman, James Power, who was also the editor and publisher of the Puget Sound Mail newspaper of LaConner, offers the editorial jab: "Verily, as our Whatcom contemporary has remarked; 'he laughs best that laughs last.' Wherefore do we cachinnate most audibly."
Thus Skagit County was created with drama, intrigue, and vindicated laughter.
Orrin Kincaid, the other County "Father," is of course recognized through the name of the main street entering the County Seat of Skagit County, Kincaid Street, leading past the courthouse and what was once the railroad depot, where people arriving by train got their first impression of the town.
Though it is a very confusing and congested traffic terminal now, with cars coming in and going off in too many directions, it was once a very broad and pleasant boulevard, where people could stroll or promenade in carriages between the railroad depot and the steamboat landings on the river, greeting friends and visitors to town.
Power had attempted to get several other papers up and running in Skagit County, but with limited success. For the most part he retired to running a very active hop ranch at the corner of Best and Calhoun Road (now the Bob Rose Farm), escorting the widow Louisa Conner to major social and political functions, and hiring small boys with sling-shots to shoot birds out of his cherry trees.
Kincaid, after an attempt at store-keeping and town building at Lyman and upriver reaches, now rests more peacefully at the Fir Hill cemetery in Mount Vernon.
Richard E. "Dick" Fallis, Past Historian of Skagit County Pioneer Association, Argus 25 Nov 1998
---
Links, background reading and sources
| | |
| --- | --- |
| Did you find what you were seeking? We have helped many people find individual names or places, email if you have any difficulty. | Tip: Put quotation marks around a specific name or item of two words or more, and then experiment with different combinations of the words without quote marks. We are currently researching some of the names most recently searched for — check the list here. Maybe you have searched for one of them? |
See this Journal Timeline website of local, state, national, international events for years of the pioneer period.
Did you enjoy these stories and histories? The process continues as we compile and collaborate on research about Northwest history. Can you help? Remember; we welcome correction, criticism and additions to the record.
Please report any broken links or files that do not open and we will send you the correct link. With more than 800 features, we depend on your report. Thank you.

Donations make a difference. We are a 501 (c) (3) nonprofit corporation. Your monetary gifts are tax deductible, actively solicited, and most welcome. Unless instructed otherwise, your contribution will be kept confidential. If you would like to make a donation to contribute to any of the works of Skagit County Historical Society and Museum. From your PayPal account, consider specifying if you would like your donation restricted to a specific area of interest: General Funds, Skagit River Journal, Skagit City School, Facilities, Publication Committee, Special Events, any upcoming Exhibit. Just add those instructions in the box provided by PayPal. If not a donation, how about a Membership? Find information at this link. Thank-you! from the Director, staff and Board of Trustees.




Please sign our guestbook so our readers will know where you found out about us, or share something you know about the Skagit River or your memories or those of your family. Share your reactions or suggestions or comment on our Journal. Thank you for taking time out of your busy day to visit our site.

Currently looking for a new guestbook!



View My Guestbook
Sign My Guestbook


Email us at: skagitriverjournal@gmail.com

Mail copies/documents to Street address: Skagit River Journal c/o Skagit County Historical Society, PO Box 818, 501 S.4th St., La Conner, WA. 98257