Former Western Front editor passes away
A former Associated Students president and editor of The Western Front from Sedro-Woolley died in Mount Vernon on Tuesday, Oct. 27, after a long fight with cancer.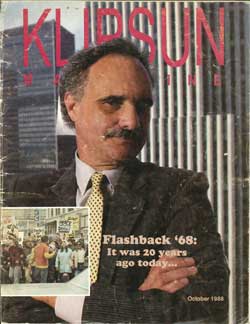 Noel Bourasaw, 71, served as AS president of Western Washington State College, the previous official name of Western, from 1968-69 during the Vietnam War era. Noel Bourasaw served as Associated Students president and editor for The Western Front.
Bourasaw also worked as managing editor of The Collegian, the past name for The Western Front, in 1962 and again in 1966. He rose up the ranks in the newsroom to become editor-in-chief in 1967, the same year he gave "The Western Front" its name.
When Bourasaw came to Western after serving in the army as a brevet corporal, some students were intimidated by his age and stature, said Bourasaw's classmate John Servais.
Servais remembers a student during the AS presidential election of 1968 asking him, "Is it okay to vote for someone with a beard?"
In this and many other ways, Bourasaw was unlike any of his predecessors, Servais said.
When the student body elected him into office, Bourasaw set out to fulfill his campaign promise to make Western a "Free University."
The fledgling experiment, called Northwest Free University, offered tuition-free, alternative courses for community members. The program was today's equivalent of free select course offerings — except the "faculty" were all unpaid volunteers, Servais said.
The program was controversial in the eyes of the administration, but Bourasaw wasn't one to care about opposition, Servais said.
"He just made it happen."
Bourasaw appointed former political science professor Bernard Weiner to administer Northwest Free University after the department decided not to renew Weiner's teaching contract, despite students voting him "best teacher of the year," Weiner said.
Because of Bourasaw's idea, thousands of community members were able to take advantage of the program's many courses, from music lessons to wilderness survival skills, he said.
"That was Noel [Bourasaw]'s baby, and it fed off his sense of adventure and fun," Weiner said.
Bourasaw and Weiner became friends before they started Northwest Free University while active in the anti-Vietnam War movement and the Campus Christian Fellowship, he said.
During his presidency, Servais said Bourasaw never allowed a Vietnam War protest to get out of hand.
While there was turmoil on college campuses around the nation, Western's administration gave Bourasaw unprecedented freedom. He changed the dynamic between the students and the administration to give the AS Board of Directors more autonomy, Servais said.
They were afraid of jamming Bourasaw because they were afraid of a big student takeover or something similar, he said.
In the eyes of his classmates, Bourasaw was a revolutionary figure, Servais said. Boisterous and jolly, he exuded a presence that couldn't be ignored, he said.
"He almost looked like Fidel Castro," he said. "But he got along with everybody. He could walk into a room and even people who were mad at him could still get along with him."
Servais and Bourasaw first met when Servais was trying to keep established what would later become the Outdoor Learning Center, at that time simply called the Outdoor Program, he said.
Because starting a new program would mean diverting funds from other clubs, many students protested, Servais said.
In the spring of 1969, Bourasaw protected the Outdoor Program's budget, and kept it from being torn down, he said.
"He didn't care that much about hiking or going on beach walks at La Push," Servais said. "But he knew what I was doing was good for the school, good for the students. Noel [Bourasaw] protected that."
When Bourasaw graduated, he moved to California, where he wrote for a number of wine magazines and eventually became the first executive director of the Washington Wine Institute, according to Bourasaw's website, Skagit River Journal.
Servais thought Bourasaw could have been a U.S. senator, but he chose to pursue wine instead, Servais said, laughing.
When he retired, Bourasaw moved back to his home town of Sedro-Woolley, where he became steeped in the history of Skagit County. He maintained the Skagit River Journal, a website exploring the history of the Northwest with a particular focus on Sedro-Woolley and the Skagit Valley.
Any time someone had a question about Skagit County, "Check with Noel," was the immediate response, said Jo Wolfe, Skagit County Historical Museum director of development.
History came naturally to him, Wolfe said. "It was in his DNA, maybe."
Bourasaw was very oriented around good things, Servais said.
"It was true to his character. He was real that way and that's the incredible thing about Noel ."
---
Stay tuned, more to come.
---
Links, background reading and sources
Founder and Editor, Noel V. Bourasaw of the website you are currently enjoying, Skagit River Journal, succumbed to his long fight with cancer on October 27, 2015. Look for Noel's obituary from November 12, 2015 in the Skagit Valley Herald and Bellingham Herald, click the link to go straight there or search Legacy.com . A 'Celebration of Life' was be held Sunday, November 15 at Sedro-Woolley Senior Center at 2:00 PM. Stay tuned for more info here on Noel and the future of Skagit River Journal. Follow this link to the Skagit Valley Herald for a recent article on his death titled, 'Sedro-Woolley's Historian.'
Friends of Noel and Skagit River Journal
Noel left behind his former career as a wine writer, administrator and jack-of-all-trades/master-of-none in the Sonoma Valley of California when he returned to Sedro-Woolley in 1992. He attempted to get an ongoing Portal Introduction to Food and Wine, but there is not much on the page. I have saved a couple of his writings from his time period in Wine Country and will post in the near future. dr
---
Story posted on June 2016
Please report any broken links so we can update them


| | |
| --- | --- |
| Did you find what you were seeking? We have helped many people find individual names or places, email if you have any difficulty. | Tip: Put quotation marks around a specific name or item of two words or more, and then experiment with different combinations of the words without quote marks. We are currently researching some of the names most recently searched for — check the list here. Maybe you have searched for one of them? |
See this Journal Timeline website of local, state, national, international events for years of the pioneer period.
Did you enjoy these stories and histories? The process continues as we compile and collaborate on research about Northwest history. Can you help? Remember; we welcome correction, criticism and additions to the record.
Please report any broken links or files that do not open and we will send you the correct link. With more than 800 features, we depend on your report. Thank you.

If you would like to make a donation to contribute to the works of this website or any of the works of Skagit County Historical Society and Museum. We thank you up front. While in your PayPal account, consider specifying if you would like your donation restricted to a specific area of interest: General Funds, Skagit River Journal, Skagit City School, Facilities, Publication Committee, any upcoming Exhibit. Just add those instructions in the box provided by PayPal.


Please sign our guestbook so our readers will know where you found out about us, or share something you know about the Skagit River or your memories or those of your family. Share your reactions or suggestions or comment on our Journal. Thank you for taking time out of your busy day to visit our site.

Currently looking for a new guestbook!



View My Guestbook
Sign My Guestbook


Email us at: skagitriverjournal@gmail.com

Mail copies/documents to Street address: Skagit River Journal c/o Skagit County Historical Society, PO Box 818, 501 S.4th St., La Conner, WA. 98257