Site founded September 1, 2000, passed a half million page views in July 2005
These home pages remain free of any charge. Please pass on this website link to your family, relatives, friends and clients.

of History & Folklore
Subscribers Edition Stories & Photos
The most in-depth, comprehensive site about the Skagit.
Covers from British Columbia to Puget Sound. Counties covered: Skagit, Whatcom, Island, San Juan. An evolving history dedicated to the principle of committing random acts of historical kindness

Noel V. Bourasaw, founder Sedro-Woolley, Washington, 98284
Home of the Tarheel Stomp Mortimer Cook slept here & named the town Bug

R.I.P. Lloyd Donald Palmer 1913-2005
This story is in five parts:

Lloyd's life story by the Journal editor

Slipper's Soliloquies: Palmer's Transfer, Sedro-Woolley Courier-Times, May 20, 1881

The Palmer garbage business, Donnelly Motors, Coffland Garage and the Burlington Highway

Obituary for Lloyd Donald Palmer, Skagit Valley Herald, Sept. 22, 2005

A life of adventures, By Les Palmer, Peninsula Clarion, Alaska, "An Outdoor View," Oct. 14, 2005

---
Lloyd's life and his family

By Noel V. Bourasaw, Skagit River Journal of History & Folklore, ©2005

Friends of Lloyd Palmer have asked me to share his obituary and other information about this fine man whom I regarded as a friend for many years. Although some people thought he did not have a sense of humor, when you got to know him, you realized his humor was very English, very dry. He used to crack me up with his delayed punch lines and how he sometimes made himself the butt of his own jokes. I started to Central Grade School in Sedro-Woolley with his son Ben. We went through 12 years together and Lloyd's wife, Junia, helped kick-start my voracious reading habit. Neither of them received an advanced degree but they were very well read and educated themselves by the bootstrap method that is common to many who grew up during the Depression years.
Lloyd was born on Dec. 11, 1913, in Winona, Washington, which he described as being in "the middle of nowhere." Winona was a wide spot in the road, just west of Endicott, and a few miles north of Pullman, the home of Washington State College, now University. In one of our many conversations, Lloyd recalled that his dad dry-farmed wheat in the Palouse country, and that he started school in Spokane, where there was "still one room down, one room up." Lloyd spoke of walking miles a day sometimes just to see the new and unusual landforms nearby, which were the result of a flooding torrential river that carved out the eastern Washington landscape after the ancient Lake Missoula ice-dam broke, millennia ago. He learned early to work hard and care for his tools, as he watched his father doing so. When you live on an isolated farm, you cannot go to the nearest hardware store to replace a fan belt.
In 1922 the family moved to Sedro-Woolley. That is where Lloyd's parents, Lloyd Henry and May (Brueland-Chisholm) Palmer married on Dec. 26, 1911. Both parents spent their young years in Oregon. To avoid confusion, hereafter we will call the subject of this article, Lloyd Palmer, and his father, Lloyd Henry Palmer. As far as we know, they were not referred to as Sr. and Jr. Lloyd Henry Palmer was born on Sept. 28, 1885, the son of an Astoria contractor, John Henry Palmer, who died of apoplexy on Dec. 3, 1896. An oral legend in the family contends that he died during a city council meeting. John Henry Palmer's wife was Lucy Ann McIntosh.
In 2004, about a year before Lloyd Donald Palmer died, we were pleased to connect him with a far-removed cousin. We posted a story on the website that referred to May Palmer and Lucy Palmer being charter members of the Territorial Daughters of Washington, and Shauna Mathie, a great-great-granddaughter of John and Lucy Palmer, read the webpage and contacted us by email. She descends through Lloyd Henry Palmer's sister, Ethel Palmer Leake. She spoke with Lloyd a few times by telephone and then visited him and his wife Alida in July 2004. Through Shauna, we discovered that John and Lucy Palmer emigrated to Oregon from Prince Edward Island [hereafter PEI], Canada, in 1883.



Genealogy from Canada to Oregon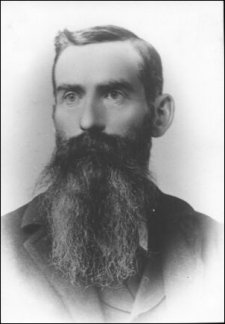 John Henry Palmer. Photo courtesy of Deanna Berkemeier.
---
We delve more deeply into the Palmer genealogy, than we sometimes do with other articles, because so many people have asked about how the various families were connected and also because May and Lucy Ann Palmer devoted so much of their own time to helping the Territorial Daughters compile local genealogy. The late Junia Palmer, Lloyd's first wife, compiled a family tree back in the 1970s with Lloyd's help and we used it as a base to begin our research. We filled in many of the gaps with Lloyd's memoir, I Remember, which his son Les (Lloyd Leslie) sent us. Then we interviewed family members, including: Les; Reta Palmer, wife of the middle son, David Palmer (David Wayne); Jessie Cannon Taylor, Junia's sister and a descendant of another pioneer family; Marlin Miller, who graduated from Sedro-Woolley High School with Lloyd in 1932, and Alida Terveen Palmer, who survives Lloyd as his second wife.
The family genealogy on Lloyd's paternal Palmer side is pretty thin. All he recalled to friends and family is that his Palmer ancestors were English. His grandfather John Henry Palmer was born on March 7, 1850, on PEI, Canada. Now the nation's smallest province in terms of both size and population it is located in the Gulf of Saint Lawrence, east of New Brunswick and north of Nova Scotia from which it is separated by the Northumberland Strait. Originally called St. Jean's or St. John's Island, it was annexed to Nova Scotia in 1763 but became independent again in 1769. The name was changed to Prince Edward Island in 1800 and in September 1864, PEI hosted the Charlottetown Conference, the first meeting that led to the Articles of Confederation and the creation of Canada in 1867. Both PEI and Newfoundland balked at joining in 1867, but PEI joined in 1873. John Henry's father was probably named William, according to Les Palmer. John Henry married Lucy Ann McIntosh on July 12, 1875, at Stanley Bridge, New London, PEI. Lucy was 15, ten years his junior, and was also born on PEI. Her parents may have been William and Barbara. In his memoir, Lloyd recalls that they were Scotch-Irish, sometimes recorded as Scot-Gaelic, as in the 1910 census. Lucy's father drowned on Dec. 16, 1862, at age 46, one of many drowning deaths in this extended family. While living on PEI, John Henry and Lucy had two children who died while quite young and then, after they moved to Newfoundland, they had a boy, Fred, and girl, Ethel, who survived to adulthood.
Meanwhile, across the Atlantic Ocean, Lloyd's maternal grandparents lived in Norway. On Nov. 7, 1860, Thorvald (or Torvald) Emil Brueland was born to Ole and Hanna Brueland in Stavanger, Norway. His future wife, Josephine Caroline Knudsen, was born to Lars and Karen J. Knudsen in the same town on Dec. 23, 1862. Josephine's father left home after Josephine was born, and sailed around the world. He wrote to her from a port at Pisagua, South America, in Northern Chile for twelve years until 1884. Les Palmer discovered that Chile was at war that year with neighboring Peru and that Lars may have been killed. Thorvald and Josephine married on Nov. 9, 1884, in Stavanger. Lloyd recalled that two uncles of his mother on the Brueland side had also drowned while they were sea captains.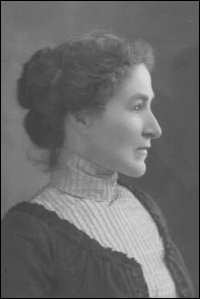 Lucy Ann McIntosh Palmer. Photo courtesy of Les Palmer.
---
Shauna recently discovered Lucy's 1936 naturalization papers that indicate the family emigrated to New York City in May 1883. We know that they were in Astoria, Oregon, by Sept. 28, 1885, because Lloyd Henry Palmer was born there on that day. Another son, Chester — their last child, followed three years later. Most of the town burned two years before they arrived, so a carpenter like John Henry would have found plenty of work. The Oregon researchers also found a John Palmer who filed a homestead claim in the Walluski area, which was also the site of a Palmer Logging Company, but we have not confirmed the connection. And Shauna Mathie found that, on March 2, 1889, a man named John Henry Palmer was listed as a member of the Ancient Order of United Workmen. Although we do not know exactly when the family settled to Astoria, John Henry was a carpenter and a contractor by the time that the 1896 city directory was published.
Astoria is on the south shore of the Columbia River in Clatsop County. Lewis and Clark's overland party reached the nearby Pacific Ocean in 1805 and in 1811, John Jacob Astor's Pacific Fur Company built a trading post at the future townsite. After the U.S. declared war on Great Britain in 1812, Astor sold the post to the British Northwest Company, which renamed it Fort George for the King of England. In 1821, the British Northwest and Hudson's Bay companies merged and in 1825, Dr. John McLoughlin moved the merged company headquarters to Fort Vancouver, on the north shore of the river, in what would become Washington territory in 1853. Astoria continued to prosper after the Palmers arrived, as 39 salmon canneries shipped product all over the world. Sometime after the Palmers moved there, Thor and May Brueland also moved to Astoria, probably in the mid-1880s because their daughter May was born in Portland on May 23, 1888.



John Henry Palmer dies and the family moves north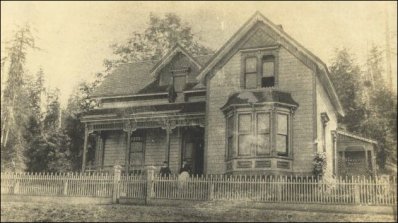 John Palmer house in Oregon, location unknown. Photo courtesy of Les Palmer.
---
Young Lloyd Henry Palmer's life changed dramatically on Dec. 3, 1896, when his father, John Henry, died of apoplexy at age 46. An old family story contends that he was the mayor of Astoria at the time and died during a city council meeting. We discovered, with the help of the Liisa Penner, Curator of Collections at the Clatsop County Historical Society (see the website: www.clatsophistoricalsociety.org/ ), that he was not the mayor, but could have been a city councilman. The Daily Morning Astorian (oldest newspaper in the Northwest) described him on Dec. 4, 1896, as "the well known contractor of Uppertown." His widow, Lucy, had to struggle along the next few years, supporting her family of four children still at home, so she took in boarders. One was a toddler named Ronald Chisholm, whose father, Daniel G. Chisholm, raised him alone after the lad's mother, a half-breed Indian girl, died just weeks after she gave birth in 1897.
Daniel soon met Josephine Caroline Brueland, who cooked at the logging camp where Daniel worked. Her husband, Thor, had died while driving a team of horses and a wagon over a patch of ice when the Willamette and Columbia rivers froze over one winter (year unknown). May Brueland — born on May 23, 1888, who would years later become the wife of Lucy's son Lloyd Henry, was Josephine's only child. Following her husband's death, Josephine sent May to a Catholic convent so that Josephine could work. Daniel and Josephine soon married, gathered up their children from their way stations and they moved north to Sedro-Woolley in 1900, according to May's obituary. Their new town was experiencing another cyclical logging boom after the Klondike gold rush helped the Northwest recover from the nationwide Depression of the 1890s.
Lucy was listed in Astoria in the 1900 Federal Census with her three sons and a daughter, aged 19 to 12. Lucy was again listed in the 1901/1902 Astoria city directory. Her son Fred was listed as a bookkeeper at the N.P. brewery, and the younger children were not listed. Young Lloyd Henry was shaken up at age 12 by his father's sudden death, and that experience affected his son Lloyd (from his memoir):

I never forgot this story and it had a profound impression on me. . . . Dad's older brothers were long gone, and the older [sister was] far away, too. It was up to my dad to support his mother. He was in the sixth grade. He quit school and began a long career of hard work, of hustling for any honest dollar he could make. He was never idle a day in his life. His loving care of his mother lasted until his death and was continued by my mother, in turn. He was a powerful role-model for me. I almost worshipped him and modeled my life after him all my days.

That recollection from Lloyd's memoir helps define him as much as anything. By 1904, Lucy was in Bozeman, Montana, by the time that her daughter Ethel married Thomas Leake there that August. She stayed in Bozeman through the 1910 federal census.



Lloyd Henry marries and farms in Washington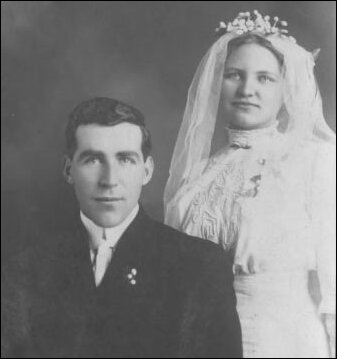 Lloyd Henry and May Palmer on their wedding day, 1911. Photo courtesy of Les Palmer.
---
We do not know when Lloyd Henry left home, but we do know that he was in Sedro-Woolley on Dec. 26, 1911, because that is the day that he married May Brueland Chisholm, when he was 26 and she was 23. After attending grade school at Sterling, west of town and the Chisholm farm, May graduated from Sedro-Woolley High School in 1909. By then she had taken her stepfather's last name and her parents sent her to Bellingham Normal (Teachers) School (now Western Washington University), but we found no record of her either graduating or teaching. Shauna Mathie has found evidence from the 1910 Federal Census that a Lloyd Palmer was enumerated in the Winona area of eastern Washington, so we conclude that Lloyd Henry had already started dry-farming wheat in the Palouse country. Perhaps Lucy was their matchmaker.
Our subject, Lloyd Donald Palmer, was born on that farm in 1913, an especially happy occasion for his parents because their first child was stillborn. Lloyd recounted in detail in his memoir how he had a happy childhood, filled with adventures. Just as when I knew him in his 50s, Lloyd was a prankster as a boy. Warned sternly to not play in the pig pen, he climbed right in and avoided the boar, but his parents soon caught him. He painted his dad's tractors with red paint that he found, and teased rattlesnakes.
His father farmed nearly 2,000 acres, first with two teams of horses and mules and then with tractors — including a Yuba model with ball bearings the size of tennis balls, and he hired men with teams for the harvest. Lloyd always called his grandmother Lucy Ann, "Nanny," and he recalled her visiting them often while she worked up north in Spokane as a cook at Edgecliff Tuberculosis Sanatorium. She cooked for the men during harvests and then came to live with the family permanently. "She was especially fond of me and had a tremendous influence on my life," Lloyd recalled. Two years after Lloyd, another boy, Arthur, came along.
World War I presented many opportunities for the Palouse ranchers, as the government encouraged the dry-farmers to grow all the wheat they could. Lloyd Henry also bought cows and the family churned butter, which they wrapped in paper imprinted with the family name. Lloyd's love for cars came early as his father bought a 1916 Buick and then a 1919 model. Lloyd was also fascinated with his dad's love for guns and his marksmanship. One time his father shot a rattlesnake that appeared under Lloyd's crib and on many occasions he rode his horse fast down their unpaved road and shot at and hit each fence-post along the way. Perhaps the key moment in Lloyd's pre-schooldays life was when his dad took him to the hardware store, maybe one like H. Bean's in Sedro-Woolley, where Harry or Mort would put us on the nail scale to weigh us. But on that day the owner gave Lloyd his first pocket knife and he was a very happy boy, with his first tool on the way to becoming a mechanic.
Lloyd Henry must have loved May a lot because she hated the farm and told him so, although he ignored her at first because it was so profitable. When Lloyd was seven, his father finally sold the farm for cash and the family moved to Spokane with children Lloyd and Arthur and baby Alice, who was born in 1919. They lived in a hotel until their new house was ready and when they moved in, young Lloyd thought it a palace. Their home was all electric and featured a furnace with coils in it, which supplied hot water, a real treat after the farm. The fly in the ointment was that Lloyd Henry could not find steady work, and then got swindled in a stock deal, according to Lloyd's memoir. Lloyd started school that fall in a two-story, two-room school that housed all eight grades. He rode a model-T schoolbus driven by a lady who had a moustache, and he carried his lunch in a five-pound lard pail. Since Lloyd was a country yokel, the city slickers invited him to join them for a snipe hunt, laughing all the way as they left him in the woods with a gunny sack for a snipe-trap, but he foiled them. I won't explain the intricacies of snipe-hunts, just in case any youngsters who have not been invited to one.
The two years in Spokane were not overall very happy ones. Baby Alice died at age two after repeated illnesses following the international Spanish flu epidemic that began in 1918. Aside from the usual scrapes that resulted from being the newcomer-country kid, Lloyd's memoir focused on the train trips that his mother took across the Cascades to visit her parents, the Chisholms, who lived on a farm on what is now the Rhodes Road. He recalled:

It seemed like after that [Alice's death] my mother was always homesick for the other side of the mountains. I remember my dad driving us over in the car a time or two. We brought a tent and camped along the way. We never dreamed of coming all the way in one day. Mother had been raised over on the west side and had been to school there. And it wasn't long before Dad announced we were moving over there. It was 1922.




Lloyd Henry sets up shop in booming Sedro-Woolley

Daniel and Josephine Chisholm welcomed Lloyd Henry Palmer's young family to live in their old house on the corner of the Chisholm property between Sedro-Woolley and Sterling, on the Rhodes Road. Daniel and Lloyd Henry soon became partners in the purchase of 80 acres of recently logged-off land on the hill above the Garden of Eden Road. They cut shingle bolts from the cedar and sold cordwood at $7.50 a cord or $2.50 a rick. At the same time, Lloyd Henry hauled milled lumber on a wagon up to his property and built a house with a basement but Skagit County drug their feet for ten years about putting in a road up the hill. Then the original Chisholm house burned and Lloyd Henry built another across the road from the Chisholm house. Lloyd recalled how he helped clear the land on the hill when he was 12 and what a lovely view it had. They planted a nut orchard there and a strawberry field before Lloyd Henry finally gave up waiting for the county and sold the property. He even planned to build a landing strip for airplanes on the property. Their last child, George Melvin Palmer, was born on Oct. 12, 1924, which meant that young Lloyd had to watch out for three siblings as well as complete his chores.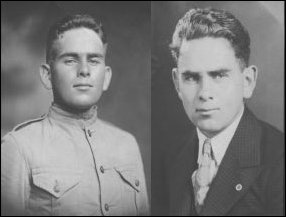 Ronald Chisholm. Photo courtesy of Les Palmer.
---
Some of Lloyd's favorite memories from that time were his hiking trips with his "Uncle" Ronald Chisholm. Ronald was originally a logger after the Chisholms moved north and loved to fish and hunt and impressed Lloyd with his feats at swimming. From a photo of Ronald in what appears to be a soldier's uniform, we assume that he served in the U.S. Army in World War I. Ronald never married and he regularly walked back and forth from town to the farm, probably along the Great Northern railroad tracks. One day during the Depression years, he either fell asleep on the tracks or just simply fell and lost his leg when the train crossed over him. After he mastered a prosthesis peg-leg, he worked for about two decades in the foundry at Skagit Steel and Iron Works. He remained a bachelor and became what was then called the town character, but his family remembered him as a warm, generous man and Les Palmer remembers how good he was with children. After retiring from Skagit Steel, Ronald moved to Nahcotta, Washington, where he fished on a salmon-troller single-handedly, crossing the bar of the Columbia River to do it. He died there in 1983 at age 86.
The Palmers and Chisholms lived on the bench above the ancient channel of the Skagit River. The river changed course years ago but a slough still meandered along the bottom of the bench below the farm of David Batey, the namesake of the slough where it branched off from the river a little ways east. A year after the Palmers moved here, Batey's pioneer house and mini-hospital that he built for his wife, Dr. Wilhemina Batey, burned to the ground. The Heider family lived there after the Bateys moved down the road, close to today's Rothenbuhler Engineering. Lloyd loved to paddle a canoe in the slough and explore the island that formed between Hart's Slough and the river. One day he and his friends found a good-sized still on the island and they formed a pact to keep it secret, but one of the boys reported it to the police. On another day, he and his friends went swimming and his buddy Ernie Spurling fell in and almost drowned until Lloyd saved him. For his extraordinary effort, Lloyd received a framed commendation from the head of the Boy Scouts, Daniel Beard. As he noted in his memoir, his Boy Scouts troop was a big thing in his life; Lloyd Henry was a scoutmaster and Lloyd's younger brother Arthur scouted with him. Although he was skinny all his life, Lloyd stood up for himself and his brother when the town bullies picked a fight and he learned quickly to win so that he did not come home with a bloody shirt and catch hell from his mother for it. One of the toughs learned that it was not wise to steal a girl's lunch pail and by using his fists on the miscreant, Lloyd soon endeared himself to his playmates.
His mother, May's, spirits picked up markedly after the move back her to live near her parents, especially when Lloyd Henry bought her a new Maytag washer that was driven by a gas engine. Lloyd marveled at how May and Lucy Palmer divided the chores and co-existed quite well for decades. He soon mastered the family's sewing machine and sewed diapers and baby clothes on it after his sister Ethel was born on July 20, 1922, after they moved here.
The whole family was involved in different business ventures. Lloyd recalled in his memoir that one of his father's contracts was to deliver groceries for various stores in town. One of Lloyd's favorite stops was the Fern Rooms, the major brothel that was located where Skagit Steel later built their new office building. On his first delivery to the brothel, he recalled, Madame Elsie Moore took him into the kitchen "where several 'ladies' were lounging about. 'This one is off limits to you girls,' she announced."
Lloyd Henry soon bought slab wood from three mills in Lyman, Clearlake and the old Royce-Hankin mill in Sedro-Woolley, which burned to the ground in that decade of the 1920s. The work was hard and young Lloyd learned self-discipline from loading and unloading off two trucks that his father bought for the business. (You can read below about the trucking transfer business that his father started in about 1926.) In addition to hauling wood and coal, Lloyd Henry obtained contracts from all around, moving furniture, hauling Christmas trees to California and fresh fruit from east of the mountains.
His father also acted as a gypo (or gyppo) logger with small contracts to log everywhere from Marblemount and Phinney Creek upriver to Jarman Prairie, northwest of town. [Ed. note: this is one of several instances of when Finney Creek was spelled Phinney. From old references, we infer that Tarheel loggers in the area changed the spelling. As an old friend of our family, Art Robinson, used to say, when he came out from North Carolina, most of the loggers were illiterate and it was natural for them to spell place names phonetically.] Unfortunately for Lloyd Henry, the nationwide Depression hit hard in Sedro-Woolley in the early 1930s and with investment capital drying up, his list of contracts dwindled and he could not keep up with mortgages. One of his last jobs was helping build the overhead tramway for construction of the Deception Pass bridge in 1934-35, along with his cousin Earl Holmes, who had just moved his family up from Astoria.



Lloyd marries Junia Cannon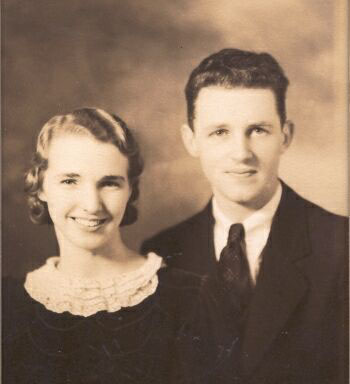 Lloyd and Junia wedding photo. Photo courtesy of Deanna Berkemeier.
---
The nationwide Depression of the early 1930s did not hold Lloyd Palmer back. Emil P. Jech lived just up Rhodes Road near the highway that Lloyd and his father built and Emil offered Lloyd a job in 1935 at his Universal Motor Co. garage on Murdock street, which he built in 1924 and which now houses the Sedro-Woolley Museum. Lloyd had already shown a natural affinity for cars. His father had a 1919 Buick touring car sitting in the yard while Lloyd was in high school, and the car had a burned-out bearing that had caused its early retirement. Lloyd screwed up his courage and offered to fix it, and when he was done, he painted it bright red and became the only kid in his class with his own car. "Our Family History," which Junia Palmer compiled, contains a list of cars that Lloyd owned over the years, starting with the Buick and followed by: 1927 Essex, 1932 Model B Ford, 1935 Ford, 1939 Mercury, 1953 Ford (which I remember well), 1952 Lincoln, 1966 Mercury, 1970 Mercury convertible, 1977 Mustang and a 1982 Mercury Lynx. I still remember a Packard in the driveway in the 1962 era, but I do not see it on the list.
Lloyd's Depression treasure, however, was Junia Cannon, a high school girl six years his younger, whom he met at the Wickersham skating rink, according to Les Palmer. Junia's sister, Jessie Cannon Taylor, still lives in Mount Vernon, told us that the Cannons lived in the Utopia district, near where I grew up, about five miles east of Sedro-Woolley. The family moved here from eastern Washington sometime in the late Teen years, at the invitation of Junia Buchanan, the wife of Oscar Buchanan, a farmer on the north shore of the Skagit River. Benjamin Cannon was born in Winnemuca, Nevada, on his family's wagon-train trip west. Both he and his wife, Mary Irene (Aldrich), grew up in Oregon, where she was orphaned as a little girl after her mother left her father. After living in the Old Soldiers Children's home, just across the Iowa line in Nebraska, she went to work as a teenager after just a year of high school. She soon became a cook at a ranch near Kiona in the Horse Heaven Hills, then an isolated area in eastern Washington and now home to one of Washington's finest wineries. That is where she met Ben Cannon, and they soon married and by 1907, they lived in a farmhouse near Dayton, Washington, which burned to the ground. They soon moved to Creswell, Oregon, where their first two children were born. Junia was born on Oct. 7, 1919, shortly after the family moved here to Utopia. Jessie was born in the fall of 1921, during the worst flood of the century. During that flood and subsequent floods that occurred twice a year sometimes, most of the Buchanans' 200 acres was washed away by the river.
Junia dropped out of her last year of high school at age 17 when she married Lloyd on Oct. 11, 1936, and 21 years later, she earned her diploma from Sedro-Woolley High School in 1957, the same year that her second son, David, graduated. They had three sons together; Les was born in 1937, David in 1939 and Ben in 1944. Les graduated from Sedro-Woolley High School in 1955 and went into the Air Force; he now lives with his family in Sterling, Alaska. David lives with his wife, Reta, on Samish Island. Ben graduated in 1962 and now lives in Mount Vernon. I remember Junia well when she was the assistant librarian to Delores Stendal in the old Carnegie Library where the high school gym now stands. She and Delores encouraged me to read and I spent many rainy afternoons in the curved alcoves in the old 1915 building. Over the years she worked at Sherm Drake's grocery, across the street from their Borseth Street house, and later she worked for a bank and Puget Power, among other jobs.
Jessie Cannon Taylor reminded me of how the Palmer house was so often full of music. Ben mastered the organ and other instruments and sang in a barbershop quartet while we were in high school. Jessie specifically remembered when the Palmers moved from a house at the corner of Reed and Moore streets to the 824 Borseth Street in November 1942, because of a humorous incident. The Palmers, Taylors and other friends were having a party and the house rocked with music. All of a sudden, a complete stranger walked in the front door and remarked what a party it was, and asked, "Where can I get me some girls?"
Lloyd excelled quickly at Jech's Ford dealership but by 1942, work had dried up as gas rationing was enforced and Ford stopped producing car models, devoting the company's resources and efforts towards war materiel. That year, Lloyd went to work for Skagit County as a shop mechanic and in 1945 he decided to open his own photo studio in his house, turning his longtime hobby into a profession, although one with its ups and downs. His son Les recalls that his old skills as a mechanic were again needed in 1947, two years after Sig Berglund bought out the Jech garage. A steady wage looked very attractive:

We were painting the house on Borseth, my brother Dave, me, and Dad. Sig Berglund drove up, got out of his car and had a long talk with Dad, who was not only a good mechanic, but a great body-fender man, which is what he did when he went back to work for Sig, as I recall. A few days after that conversation, Dad went to work for Sig. It wasn't easy, making a living as a photographer in the mid-1940s in a little logging town. The Old Man never was much of a salesman, either, although it would be hard to find a better photographer. He had invested a lot of money in all the right cameras and tools, and set up a darkroom in one of the upstairs bedrooms in that house. He did good work. Too good, possibly. He didn't want to give up photography as a full-time business, but he had a family to feed that included three boys that could put away the better part of a large mammal in one sitting.

I still have my class photos that Lloyd took, clear through the 1950s.

Click on these thumbnail photos to see the full-sized photos

Far left. Lloyd Palmer and his motorcycle, unknown date, probably 1930s or '40s. Photo courtesy of Les Palmer.
Center: Lloyd taking ultralight airplane lessons in September 1989. Photo courtesy of Deanna Berkemeier.

The 1940s decade brought a lot of sadness for the Palmer family. In January 1941, Lloyd Henry Palmer was admitted to Memorial Hospital on State Street in Sedro-Woolley, and he died there on Jan. 30, at age 55, of "complications" as nurses and doctors prepared to start surgery for a kidney stone. That left Lloyd Donald, the main family bread-winner with a lot of the responsibilities. His sister Ethel was married and lived at home while her husband, Roy Kinney, served in the U.S. Army, so there were three generations of women living under one roof, grandmother Lucy, mother May and daughter Ethel. Lloyd joined with "Grandpa" Chisholm and "Uncle" Ronald to shoulder the load. May's mother, Josephine Brueland Chisholm, died before on Jan 1, 1939, at age 76. Then, two years after Lloyd went to work for the county, his beloved Nanny, grandmother Lucy Ann McIntosh Palmer, died on June 3, 1944 at age 83.
In the early 1960s the Palmers moved to Ferry Street, east of the Catholic Church. In 1968, after all three boys had graduated, Lloyd and Junia moved to Yokeko Drive, Anacortes, to a house they called Palmer's Perch, which was close to Deception Pass and Puget Sound, which Lloyd dearly loved. Les recalls that Lloyd was one of the first people in the area to water-ski and as early as the 1949 he invested in a boat motor that could pull skiers on long, wide skis. His friend Jim Rusing went on to become a champion skier. On his 50th birthday in 1963, he impressed his family and friends by skiing under the Deception Pass bridge, while the boat was steered by John Terveen, a longtime math teacher at Sedro-Woolley High School. After retiring from Vern Sims Ford in 1969, he played daredevil again by embarking on a 5,000-mile round-trip by himself on a motorcycle to Death Valley, California. In 1989, at age 75, he also took lessons in an ultralight airplane. We can imagine how he thought, as he skied under the bridge, about his father and cousin Earl helping build it, and how he may have recalled during his motorcycle ride about his younger brother George Melvin Palmer's death in 1942 while riding his motorcycle on Fish Hatchery Hill near Lake Samish.
In March 1982 they moved to Mount Vernon and Junia Palmer died there on Nov. 7, 1985, at age 66. The Palmers were very close friends with John and Alida Terveen over at least two decades. John died in 1983, and after both Lloyd and Alida were widowed, they married on Feb. 28, 1990, and lived in Mount Vernon. Lloyd died Sept. 20, 2005 at the age of 91. We also note that Daniel G. Chisholm died in a rest home in Burlington on June 2, 1951, at age 86. May Brueland-Chisholm Palmer died in Sedro-Woolley on Nov. 9, 1953, at age 65. Now we will share three articles written about Lloyd, including his obituary, and our research into Lloyd Henry Palmer's transfer-trucking business.

---
Slipper's Soliloquies: Palmer's Transfer

By Fred Slipper, Sedro-Woolley Courier-Times, May 20, 1881

Mrs. Lloyd Palmer called me and said they had a picture of the building at the corner of Ferry and Murdock when it was brand new. This is the building which has just been torn down [spring of 1982]. I asked if we could use it, and she said only if we guarded it without life, as it is the only one they know of in existence. So we have placed it in its rightful place, on page one of this issue.
Along with the picture, Lloyd Palmer sent in such an interesting letter that I am going to stop right here and share Lloyd's letter with you.

Lloyd D. Palmer, 374 Yokeko Dr., Anacortes, WA 98221
When I heard that the old building on the corner of Murdock and Ferry was being torn down, it brought back a flood of memories. Originally it was a livery stable, a two-story [wood-frame] building, and I seem to remember a man named Frank Hoehn owned it. He rented out hacks, buggies, wagons and horses and he'd take care of your horse while you were in town doing business.
My dad, his truck drivers and I tore down that old building and saved the lumber. We used the lumber to build the building that was recently torn down. I was just a grade school kid then, but they let me pull nails and help pile the lumber. The planks that were in the old floor were 4x12s but we poured a concrete floor for our new building. This was about 1927 or 28 [Ed. note: Lloyd told us in the spring of 2005 that it could have been 1926 when he was in the eighth grade.] I don't think we had to get any permits to build it, we just went at it and built it.
The back third of the building we leased to Vic Barr, who ran a garage there. Another corner was an automotive electric and battery business run by Charlie McClure. In the front was my dad's service station and an officer for his transfer business. He hauled wood, coal furniture and anything that would turn an honest dollar. Palmer's Transfer had a fleet of six or seven trucks and it was a common sight around town to see a Palmer's Transfer truck delivering something.
The old Mt. Vernon-Anacortes Stage company [Affleck brothers bus line] kept a man there, Guy Gilbert, who serviced the busses and drove a bus, too. This picture [in the Courier-Times of that date] was taken when the building was newly completed. From left to right, the men are Vaughn Hinkle, Stacey Tull, my dad — Lloyd H. Palmer and John Jensen. The trucks are a 1927 Kenworth, a 1929 Ford, a 1929 Model-A Ford, a 1929 Model-A Ford auto and a 1929 Kenworth. Over the years the building had many occupants and businesses but never again did it look as clean and shining as on the day this picture was taken.

---
The Palmer garbage business, Donnelly Motors
and the Burlington Highway
Journal editor notes, raw for Lloyd story

---
We hope that a reader will have scanned photos of any of these businesses: Palmer Garage, Donnelly Motors, Coffland Garage, Universal Motors Co. (Jech Ford garage), or Berglund Motors on Murdock.
---
In 1932, the Donnelly Motor Co. bought the Palmer Transfer building that Lloyd described in his letter. David Donnelly and his son Dave Jr. sold Chryslers, Plymouths and Dodges among other cars. Donnelly also had a Gilmore service station (remember those — emphasis on the service?), Vic Barr continued running the garage and Alsie (unsure of the spelling) Eikleberry ran the body shop. Future mayor Puss Stendal worked at the Donnelly service station after the Union Mercantile department store on Metcalf Street went bankrupt in 1932. Coffland Motors replaced Donnelly's operation during the World War II years. It was on the present-day site of the Skagit State Bank.
Lloyd told us ten years ago about his before- and after-school job while in high school, riding the back of one of his father's garbage trucks. He said the worst day of his young life was one morning in the early days of the nationwide Depression, when he got up at four a.m. in the middle of winter, and the truck trudged valiantly through the snow and ice, collecting cans full of garbage in the alley off of Metcalf street. At that time, the transfer company also picked up grease barrels and Lloyd described how he had to master grabbing the handle on the side of the barrel, then adroitly swing the barrel over his shoulder and then dump the contents into a collecting vat on the back of the truck. That morning, he lost his grip on one barrel and all the grease and oil cascaded down over his head and shoulders.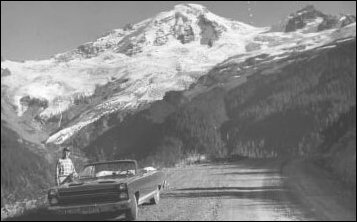 Lloyd with his fire-engine red 1970 Mercury convertible, his pride and joy. His love for horseless carriages may have started with his dad's trucks in the 1920s, which began to replace horses and teams in the area and which Lloyd learned to repair. Photo courtesy of Les Palmer.
---
"You would have had to be there, Noel," he laughed at his own expense. "The first sensation was the feeling of warmth, which was welcome. The second was the ungodly smell. And the last was the chilly feeling as the grease froze to my clothes, skin and hair. And dad made me finish the entire trip, covered in frozen grease." Lloyd recalled that his dad could not make a go of the garbage business, so he sold it to the Stanley brothers, who owned it here afterwards for decades. Lloyd said that was the happiest days of his young life.
In a more recent interview, he told us about how the county hired his father's transfer business to excavate and grade the route for the first Burlington Highway, roughly on the same route as today's Hwy. 20. Up until that time, the highway to Burlington and Mount Vernon continued west on Jameson Avenue out of town. Jameson was the original county highway, which was actually a crude wagon-road, dating from 1889-90. In the 1920s, Jameson Avenue continued on through David Batey's Vinegar Works, roughly where the Goodyear-Nelson lumber mill was built in the later years of that decade. It continued west on what is now Rhodes Road. It then made the big bend as it does today and turned west again on Dollar Way (see the Dollar Way story at this Journal site.

This is a rare photo of the Palmer Transfer Garage, at the northeast corner of Murdock and Ferry streets where the Skagit State Bank now stands. Some of you may remember it as Coffland Motors in the 1940s-60s. Photo courtesy of Deanna Berkemeier
---
The highway that Lloyd Palmer Sr.'s company worked on replaced the original curvy road between the towns that followed along a route north of the dike on the north shore of the river. It ran nearly due west from the junction with present-day State Street, and the roadbed was dug parallel to the original Seattle & Northern railroad tracks on the north side. Before the Palmers dug out the roadway that route had been the site of the rails of the old Skagit-Whatcom county Interurban electrified railway (see Journal site. For the first mile or so west of Sedro-Woolley, the roadbed also ran parallel to the famous Dollar Way, which was the first concrete road in Skagit County in 1912. We know the exact year and month that the highway was launched because Lloyd's brother, then 16, was killed in a freak accident on Sept 26, 1932, when one of the trucks accidentally backed up over him. John Stendal confirmed that for us. Lloyd recalled in his memoir that he and his father constructed other roads in both Skagit and Whatcom counties, during which Lloyd learned to operate a bulldozer and grader, along with driving trucks of all kinds.

---
Obituary for Lloyd Donald Palmer
Skagit Valley Herald, Sept. 22, 2005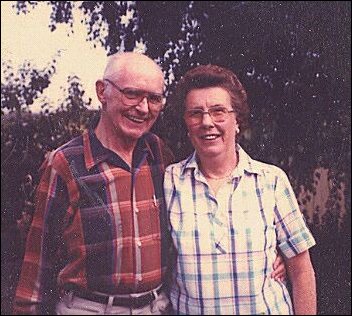 Lloyd and Alida (Terveen) Palmer on July 12, 1991, a year after their wedding. Deanna Berkemeier photo
---
Lloyd Donald Palmer, 91, of Mount Vernon, passed away on Tuesday, Sept. 20, 2005, at Skagit Valley Hospital in Mount Vernon. No services are planned. The son of Lloyd Henry Palmer and May [Brueland-Chisholm] Palmer, he was born Dec. 11, 1913, at Winona, Wa. He began school in a two-room schoolhouse in Spokane. In 1922, his family moved to Sedro-Woolley.
He was active in Boy Scouts and Sea Scouts. While a scout, he received a commendation for saving his friend, Ernie Spurling, from drowning. Mr. Palmer graduated from Sedro-Woolley High School in 1932. He married Junia Mary Cannon in 1936, and they raised three sons while living in Sedro-Woolley. He attended the Free Methodist and Presbyterian churches there.
Photography, painting and woodworking were among his many hobbies. He was a lifelong hiker, and loved to camp out with his family and friends. He was an avid sailor and spent many happy days on Puget Sound, cruising and racing.
He worked in the body shop and as a mechanic at Berglund Motors (later Vern Sims Ford Ranch) in Sedro-Woolley for many years, and retired from there in 1979, at age 65. [Journal Ed. note: he actually started as a mechanic for Emil P. Jech, the Ford dealer prior to Berglund's 1945 purchase of the company, and began that work at the old garage on Murdock Street where the Sedro-Woolley Museum is today.]
When he was 67, he took a solo motorcycle trip to Death Valley, Ca., a ride of more than 5,000 miles. On his fiftieth birthday, he water-skied under Deception Pass bridge. His family wrote:
"Dad is a hard act to follow. He was a doer. It was impossible to get fat and lazy while living with him. He stimulated in us a sense of adventure and an appreciation of nature and the outdoors. He played clarinet piano and organ, and imparted his love of music to us. A mechanic from childhood, he could fix most anything, and voluntarily helped anyone who needed it. His sense of humor was always 'on.' We're going to miss him a lot."
Mr. Palmer was preceded in death by his first wife, Junia, sisters Alice and Ethel, brothers Arthur and George, and grandson Marty. He is survived by wife, Alida, of Mount Vernon, Wa.; sons and daughters-in-law Les and Janet Palmer, of Sterling, Ak., Dave and Reta of Samish Island and Ben of Mount Vernon; grandchildren Laura Allison, Deanna Berkemeier, Kelli Blouin, Benny Madoulet, Victor Palmer, Christopher Palmer, Geoffrey Simpson, Jennifer Simpson, Andrew Simpson and Stephanie Soto; many great-grandchildren and even a few great-great-grandchildren. Mr. Palmer's body was cremated. As he wished, his ashes will be spread near Deception Pass, a place he loved.

---
A life of adventures
By Les Palmer, Peninsula Clarion, Alaska, "An Outdoor View," Oct. 14, 2005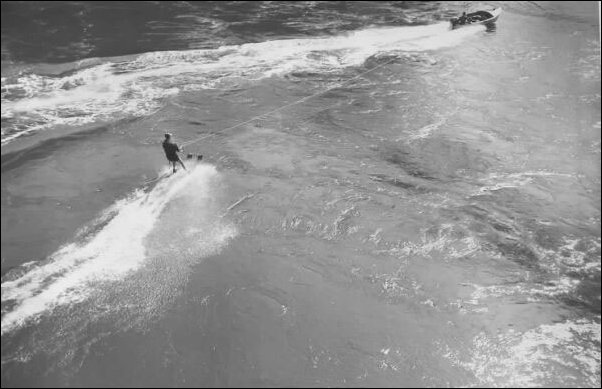 If you are a water-skier and if you have observed the swirling current and eddies underneath the Deception Pass bridge, try to imagine water-skiing under the bridge. And then imagine doing so on your 50th birthday, as Lloyd Donald Palmer did on Dec. 11, 1963. As his son Les notes, Lloyd first began waterskiing in the late 1930s and was performing tricks on skis in the early 1940s that would later become a staple at tony resorts around the world. Photo courtesy of Les Palmer.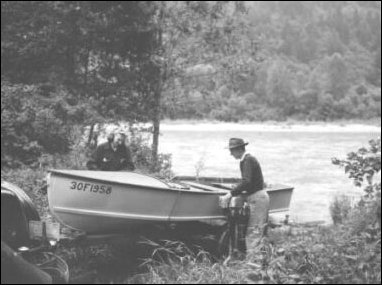 This photo is of Lloyd D. and Junia Palmer getting ready to launch their homemade 14-foot boat on a journey from the Wildcat Steelhead Club on the Skagit River in Sedro-Woolley, to Bainbridge Island in Puget Sound, in an unknown year. Photo courtesy of Les Palmer.
---
The Old Man died Sept. 20, at age 91. Earlier this week, his family assembled on Samish Island in Washington state to celebrate his long and adventure-filled life. Lloyd D. Palmer, my father, stimulated in people who knew him a sense of adventure. From him, I learned to love nature and the outdoors.
I don't know when my brothers and I started calling Dad the Old Man, but he came naturally by this naval term for captain. He loved the sea from the time he was a young boy. Half Norwegian, he had the spirit a Viking. He collected hundreds of books about the sea, ships and sailing, and he read most of them several times. Dad was an absolute nut about sailing. After retiring at age 66, he spent many a weekend racing and cruising his El Toro- and Pelican-class sailboats.
The Old Man worked as a mechanic and body-fender man in a small-town Ford dealership for most of his life. He never made much money, but that didn't deter him from going on adventures. He was always wondering what was around the next bend in the river, and then going there to find out. Until the very end, he was still a good driver, he took road trips in his car, which was a Ford, of course.
Out of necessity, the Old Man's adventures were the low-cost kind. Fifty-five years ago, he launched a homemade 14-foot boat powered by a 10-horsepower outboard motor in the Skagit River at Sedro-Woolley. He and my mother motored down the Skagit, into Puget Sound and then south to Seattle, camping on islands along the way. A couple of years after that, they set out in a 16-foot boat and cruised north into British Columbia waters that, at the time, had seen but a handful of recreational boaters. They couldn't have had more fun and excitement in a fancy yacht.
In the late 1960s, the Old Man took me along on a long cruise. The two of us ventured from Anacortes to Le Conte Glacier, north of Petersburg, Ak., in his 19-foot outboard cabin cruiser. At night, we would drop anchor in little coves with no one around for miles. After dinner, we would play Cribbage until it became to dark to see the cards. He trusted me to navigate by dead reckoning, and I managed to get us wherever we were headed, even in fog, with no GPS. We traveled more than 2,000 miles on that trip.
At age 67, he bought a Suzuki motorcycle and rode solo from Mount Vernon, Wa., to Death Valley, Ca., a 5,000-mile ride, counting side trips.
He wanted to be cremated and have his ashes sprinkled on Puget Sound, where he had so many good times with his family and friends. My son, Vic, borrowed a 26-foot cabin cruiser for the event. Besides Vic and me, my mom, a brother, a grandson and a niece went along. We sent the Old Man on his way about a mile off Rosario Beach, from where he used to launch his 14-foot boat in the surf and run out 5 miles to fish for rockfish and lingcod on Lawson Reef. His ashes and the roses tossed in after them drifted off toward Deception Pass, through which he water skied on his fiftieth birthday. The Old Man would've liked that.
On Monday at Dad's memorial, we launched a red balloon into the sky. Rising slowly, it sailed off into a heartbreakingly beautiful sunset toward the sound. The Old Man would've liked that, too.
Les Palmer is a writer who lives in Sterling.

---
Story posted on Oct. 31, 2005
Please report any broken links or files that do not open and we will send you the correct link. Thank you.

Return to our home page anytime

You can read the history websites about our prime sponsors:


Allelujah Business Systems/Copies/Mailbox, 133-B State St., Sedro-Woolley, 360 855-1157
Preserve your family keepsakes . . . allcopiersystems web page


Schooner Tavern/Cocktails at 621 Metcalf Street in downtown Sedro-Woolley, across from Hammer Square: www.schoonerwoolley.com web page . . . History of bar and building


Oliver Hammer Clothes Shop at 817 Metcalf Street in downtown Sedro-Woolley, 82 years.


Joy's Sedro-Woolley Bakery-Cafe at 823 Metcalf Street in downtown Sedro-Woolley, 82 years.


Check out Sedro-Woolley First for links to all stories and reasons to shop here first
or make this your destination on your visit or vacation.

---

Would you like to buy a country church, pews, belfry, pastor's quarters and all? Email us for details.

DelNagro Masonry Brick, block, stone — See our work at the new Hammer Heritage Square
See our website www.4bricklayers.com

| | |
| --- | --- |
| | Did you find what you were looking for? If not, please email us and tell us what you seek and we will put it on our list to research. The more details, the better. |
Please sign our guestbook so our readers will know where you found out about us, or share something you know about the Skagit River or your memories or those of your family. Share your reactions or suggestions or comment on our Journal. Thank you for taking time out of your busy day to visit our site.


Sign Our Guestbook
View Our Guestbook

Remember, we welcome correction and criticism. Please click on the email slot at the right to report any problems with these pages or to suggest ideas for future stories. This is a completely free site. Do you have scanned photos to share? Or you can mail us copies. See addresses to the right.


Email us at: skagitriverjournal@gmail.com

Mail copies/documents to Street address: Skagit River Journal c/o Skagit County Historical Society, PO Box 818, 501 S. 4th St., La Conner, WA 98257